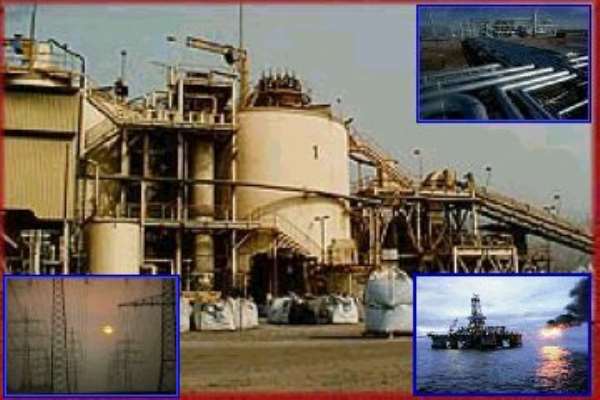 Accra, March 8, GNA - The management of Arabian Gulf Oil Limited (AGOL) is negotiating with the Government to establish a multi-billion dollar export oriented refinery with a capacity of 200,000 barrels a day at Takoradi.
The Project would consist of an Import and Export Terminal and all other facilities and infrastructure required to support the refinery. Mr Peter R. Buckley, Senior Advisor and Executive Officer of AGOL; announced this when he led a delegation from the Company to pay a courtesy call on President John Agyekum Kufuor at the Castle, Osu on Tuesday.
Mr Buckley did not give details of the negotiations and the amount to be invested but said this would be AGOL's second 100 per cent funded refinery covering both Debt and Equity but would appreciate the involvement of some Ghanaian private sector investments. He said Ghana was identified as the epicentre for investments in West Africa especially in the oil sector for exportation to other parts of the globe.
The Senior Advisor said about 3,000 workers would be recruited to construct the refinery, adding that about 500 staff out of which 450 would be Ghanaians would be engaged to work at refinery after they had been trained.
Mr Buckley said about 20,000 jobs was expected to be created with the establishment of other recreational, health, educational and other facilities in the project area.
President Kufuor said the Government created the Export Processing Zone for investors to manufacture, process and export their products because Ghana was easily accessible to anywhere in the world. He said it was ideal that Ghana was chosen for such an investment and urged them to be good corporate citizens and environmentally friendly to the communities and the people with the creation of job opportunities.
President Kufuor said the area within Takoradi was vibrant in the 1920s with commercial activities as it was the only entry port to the country.
He said its resuscitation with the establishment of the refinery was in line with the Government's socio-economic development programme. AGOL is the holding company for Arabian Gulf Oil Refining E.C. (AGOR) registered in Bahrain and Arabian Gulf Oil Refining Fujairah registered in the Emirate of Fujairah.
AGOR's investment target is to own and operate world scale grassroots merchant type oil refinery complexes in the Middle East, West Africa and South America.
The Company's authorized investment portfolio is to conduct the business of downstream refining and processing of hydrocarbons and their derivatives and trading together with retailing of the products. Middle East, Pacific Rim and European Funding banks support it with significant financial resources. 08 March 05