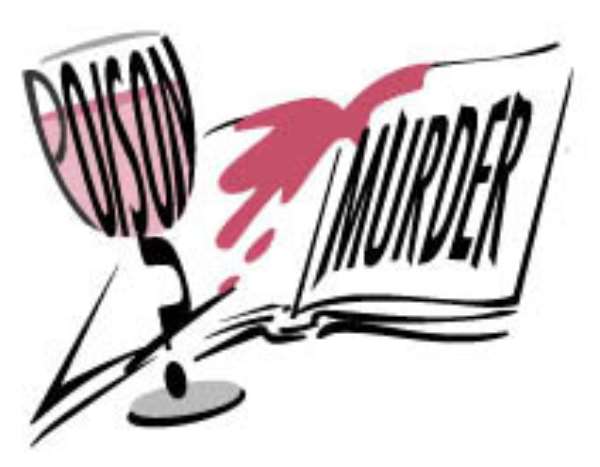 Assin Foso -- The people of Assin Akrofoum in the Central Region were last week torn between anger and grief when they listened in disbelief to a 19-year-old boy who after butchering his 80-year-old grandmother claimed he had only killed an antelope.
In the end grief took the better part of them and for close to 30 minutes many people at the scene cried uncontrollably.Kwabena Ebo Abedu had in the past accused his late grandmother, Madam Abena Nsowah,for being responsible for his inability to progress in life.
He bid his time till last week when he struck. Narrating the incident to The Mirror,the Assin Foso District Police Commander,DSP Benjamin Bosoni Bakomora, said on February 17,the deceased,Madam Nsowah,attended a Singing Band rehearsal at the local Presbyterian Church and closed around 9:00 p.m.
The commander said on her way home,the old woman met the suspect,Abedu,who offered to escort her home since it was late.Madam Nsowah obliged to walk with her grandson, Abedu, to the house.
DSP Bakomora said when they got home, Abedu bid the old woman goodbye and decided to take another footpath back to town.
The deceased in turn suggested to see Abedu off.But just after nine metres away from the house, Abedu pulled out a knife and struck the old woman repeatedly on her body.
DSP Bakomora said the old woman shouted for help but before sympathisers got there,Abedu had fled the scene leaving the deceased in a pool of blood.
He added that Madam Nsowah painfully narrated what happened to the sympathisers who came to her rescue. She was rushed to the St Francis Xavier Hospital at Assin Foso but she died on the way.
DSP Bakomora said after fleeing the scene,Abedu packed a few belongings and went to one Kwabena's place in Kumasi. Unfortunately,Kwabena who happens to be a family relation had been informed about the incident.
He confronted Abedu who admitted committing the offence so he was sent back to Assin Foso and handed over to the police.DSP Bakomora said Ebo conceded the offence but claimed it was not his grandmother he attacked but an antelope he saw in the bush.
The suspect,who is feigning mental disorder, has been provisionally charged with murder by a Magistrate Court at Assin Foso,presided over by Mr Joseph Blay.
Abedu whose plea was not taken has been referred to the Ankaful Psychiatric Hospital to be examined.