Boateng Gyan: Mutum Banza Is The Same As Incompetence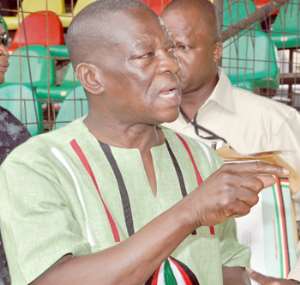 Former national organizer of the NDC, Mr Yaw Boateng says 'Mutum Banza' and incompetent are the same and opposite.
Mr. Boateng added that Mr. Koku Anyidoho did nothing wrong by calling the running mate of the NPP, Dr. Bawomia 'Mutum Banza'
Mr. Boateng Gyan made this known when he joined the campaign tour of the vice president, Paa Kwesi Amissah-Arthur at Diaso in the central region.
According to him, the NPP running mate has constantly been peddling falsehood about the president on countless occasions.
He added that Dr. Bawomia's decision to keep referring to the president as an 'incompetent' person with unsubstantiated allegations made him (Bawomia) Mutum Banza.
It would be recalled that the deputy general secretary of the NDC, Mr. Koku Anyidoho, at the launch of the NDC's Ashanti regional campaign recently referred Dr. Bawomia as 'Mutum Banza'.
This seems to have triggered the anger of some supporters of the former deputy governor of the Bank of Ghana and the NPP at large.
However, speaking to a large gathering of party supporters, the former organiser said Mr. Anyidoho replied Dr. Bawomia with words he actually deserved.
'If you call the president incompetent, thief and all sorts of names and you are also called Mutum Banza is it wrong?'. He quizzed.
The vice pr esident, His Excellency Amissah-Arthur began a four day campaign tour in the central region.
Party supporters gave him a hilarious welcome into every constituency he visited.