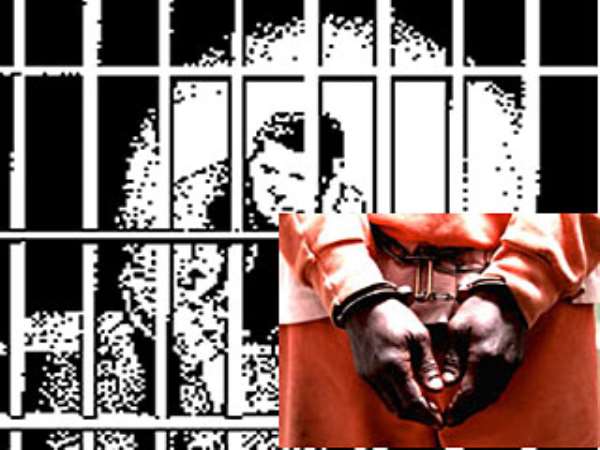 Madina, Feb 26, GNA - Three Nigerians and a Ghanaian have been placed in custody by the Madina Police for allegedly destroying property worth six million cedis belonging to Feming Castle, a drinking spot at the Madina/Redco junction.
They are Victor Mark, William Daniel and John Amardi the Nigerians and John Odenke the Ghanaian.
The Madina District Police Commander, Deputy Superintendent of Police (DSP) Mr. Kwabena Antwi-Bosiako, who confirmed the case said it was under investigation and whoever was found liable would be arraigned before Court.
According to the Police, they were arrested and placed in custody by a Police-Military team in the early hours of Friday, February 25. The barkeeper, Mr Daniel Awitor told the GNA that six Nigerians visited the spot for a drink.
He said one of the Nigerians called a lady who replied that she was not one of those street girls, which resulted in a heated argument between the foreigners and some Ghanaians.
In the heat of the argument one of the Nigerians broke a bottle and stabbed one Iddrisu Fuseini, a butcher.
Mr. Awitor said the Nigerians went on a rampage destroying plastic chairs, drinking glasses, bottles and drinks, adding that, one of them Victor Mark pulled a pistol in one hand and a broken bottle in the other and threatened people at the bar.
He said one of them snatched the pistol from him and sped off in a vehicle with the headlights of while Victor Mark broke the glass door of the main entrance and entered the serving room destroying anything on his way.
Also destroyed were a glass sieve and meat belonging of a kebab seller Mr. Alex Awuni estimated about one million cedis. Victor Mark and another Nigerian also entered a house behind the drinking bar, an occupant Madam Norley confirmed and destroyed the windshield, a side glass and the back windscreen of a car belonging to Prudent Export and the back glass of a Pickup belonging to the Ministry of Education.
According to the driver of the car, Mr. Adumuah Botchway replacement and repair of the two vehicles would cost about five million cedis. The Proprietor of Fleming Castle, Mr. Oswald Bossoh, told GNA that when he received the message about the incident he drove to the Atomic junction and informed the Police-Military team at the barrier who helped in arresting the suspects.
Victor Mark who sustained a cut on his head and injuries on the left eye, forehead, left leg and lips had been treated and discharged at the Police Hospital. 27 Feb 05