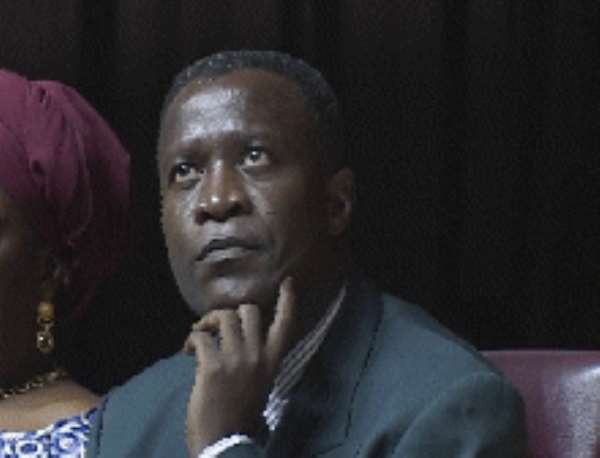 Accra, Feb. 24, GNA - The Government's strategies for accelerating the growth of the economy is to transform the underlying structure of the economy by focusing on the high growth sectors of tourism, trade, information and communication technology (ICT), and harnessing our agricultural resource potential through value additions through the application of science and technology. Presenting the 2005 Budget Parliament on Thursday, the Minister of Finance and Economic Planning, Mr. Kwadwo Baah-Wiredu said in order to achieve the objectives for the medium-term, the government has have set the following key macroeconomic targets for the 2005 fiscal year: a real GDP growth of at least 5.8 percent;
bringing the 12-month CPI inflation down to 13.5 percent by end December 2005 and toward a single digit in 2006: after the expected jump following the recent petrol price adjustment.
maintaining the buildup in Gross International Reserves at 4 months of import cover;
a domestic primary surplus equivalent to 2.4 percent of GDP; and
an overall budget deficit equivalent to 2.7 percent of GDP. "In setting these macroeconomic targets, we have taken into consideration the expected impact of global economic conditions, including the outlook for crude oil prices on international markets, and the impact of the deregulation of petroleum sector," Mr Baah-Wired said.
"Considering the prospects for global economic growth and that for sub-Saharan Africa, as well as the outlook for oil prices and cocoa output in 2005, a real GDP growth of at least 5.8 percent is projected for the 2005 fiscal year."
He said the agricultural sector would continue to spearhead this growth with a 6.5 percent growth rate.
This translates into a contribution of 41.1 percent to the total growth effort. The crops and Livestock sub-sector is projected to grow at 6.0 percent, while Cocoa Production and Marketing is targeted to grow at 13.2 percent. The Forestry and Logging and Fishing, are projected to grow at 5.6 percent and 3.6 percent, respectively.
Industry is projected to grow at 5.8 percent in 2005 against the rate of 5.1 percent recorded in 2004. Industry is expected to contribute 24.5 percent to overall growth.
The higher expected growth is in line with the Government's continued infrastructure development programme and the redirected focus on industrial development, especially in manufacturing. The Services Sector is projected to grow at 5.4 percent on account of the expected new investments in public transport and telecommunications during the year.
This should translate into a contribution factor of 27.5 percent to the economy-wide growth prospects and the expected boost from the tourism sector. The Transport, Storage and Communication sub-sector is expected to grow at 6.0 percent.
Mr. Maah-Wiredu said the total resource envelope in 2005 (including the amount programmed for domestic debt repayment) is estimated at =A235,734.6 billion, after netting out amounts earmarked for domestic debt repayment. Domestic revenue accounts for 66.4 percent, divestiture receipts 1.5 percent and external resources 32.1 percent. Domestic revenue are estimated at A223,739.3 billion, equivalent to 24.6 percent of GDP, about one percentage point above the 2004 outcome of 23.8 percent of GDP.
Mr. Baah-Wiredu said tax revenue is projected to contribute 88.6 percent (equivalent to 21.8 percent of GDP), while the National Health Insurance Levy and non-tax revenue, estimated at A21,339.2 billion (equivalent to 1.4 percent of GDP) and A21,372.3 billion (equivalent to 1.4 percent of GDP), respectively, account for 5.6 percent and 5.8 percent of the total.
Of the projected tax revenue of A221,027.8 billion, the IRS, VAT Service and CEPS have been tasked to contribute 28.1 percent, 27.0 percent and 40.7 percent, respectively. The contribution of cocoa export tax to the total tax effort is estimated at 4.2 percent.
Mr Baah-Wiredu said external grants disbursements are projected at =A25,618.0 billion, of which HIPC assistance from multilateral development partners is A21,146.6 billion. Traditional programme grants are estimated at A21,599.4billion, and project grants disbursement are expected to yield A22,872 billion.
Other Receipts are estimated at A25,261.5 billion after netting out the amount of A2 997.7 billion required for the repayment of domestic debt and the retirement of GGILBs totaling A2 118.0 billion. The Minister said Personal Emoluments are estimated at A28,683.3 billion, while expenditures in respect of Administration and Service are programmed at A21,613.0 billion and A2969.6 billion, respectively.
In addition, a provision of A2145.0 billion has been made explicitly for the replenishment of strategic oil stocks to be managed by BOST. Consequently, the levy for strategic oil stocks, which used to be borne by consumers of petroleum products, has been abolished. Total investments are projected at A27,360.4 billion, out of which =A25,834.5 billion, constituting 79.3 percent, will be foreign-financed.
Mr Baah Wiredu said an Overall budget deficit equivalent to 2.2 percent of GDP is projected for 2005, while the domestic primary balance is expected to yield a surplus equivalent to 2.5 percent of GDP.
"Working within the budget framework elaborated above, we project to achieve a net domestic debt repayment of A2997.7 billion, equivalent to 1.0 percent of GDP in 2005. This is in line with government's objective to reduce domestic debt and free more financial resources to the private sector."