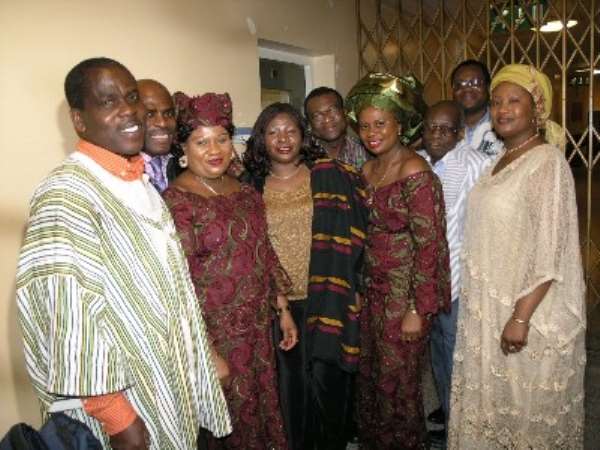 London, UK -- The Agave Development Association UK (ADA) is proving to be a force to be reckoned with. A small group with about 20 members proved that with hard work and unity, they could achieve their goals in making a difference in Agave. Their fund raising event was very successful and well attended.
The Brixton Town Hall was nicely decorated and transformed into a valentine ambience by Millicent Pedrigrino-Addo and Mrs Kabu Charway. The hall way was decorated with photos of the children at the Agave using the tables and chairs purchased by the association. Most people were at the event prior to the beginning and were not disappointed.
Dignitaries attended were; Fritz Kodagrade Banjit, Barrister, Mrs Emma Borde Cofie, daughter of Mr. E. Inkumsah, Cabinet Minister in the Nkrumah regime who chaired the function. Mr. Ade Sawyyer, Former Chairman of Ghana Union London, Charles Quist, Honorary member.
There was a cultural fashion display, raffle, poet recitals, traditional dancing, English music, and a wide variety of all music to suit everyone. The two volunteers sponsored by the association to go to Agave were also present with their families, students from a London University and a wide variety of people from all cultures.
Guests came from as far as Birmingham, Brighton, Hampshire, London and New York to attend the function. The association even had a call from; one Mr. Humphrey Zigah from Canada who could not attend but made a pledge to help financially. The event was vibrant throughout the evening and everyone felt happy and joined in the Agbadza and boboboo dance spontaneously.
It came to a time that there was no one sitting and the dance floor was packed.
Mr. Charles Nimmo N-Mensah aka Mr. CNN of Ghanaweb's presence and his talents showed up in the way things went too. The food was delicious and the evening was enjoyed by all present. Prince Charles, the Prince of Wales and the Ghana High Commissioner in U.K; Mr Issac Osei both sent their best wishes.
Ghanaweb sends Agave UK their best wishes and also commends them for making a difference in the lives of the people in Agave, Volta Region.