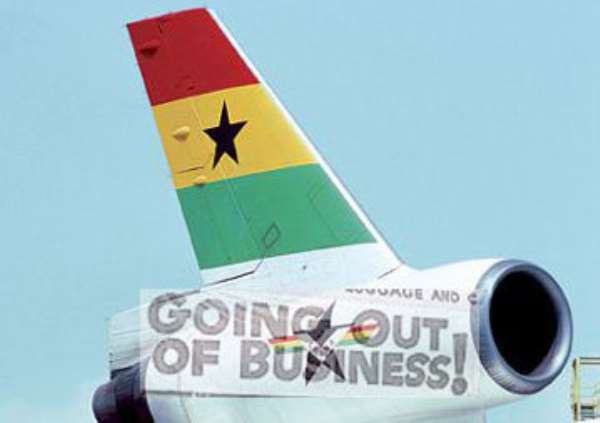 There is no smoke without fire, we are told - and so when we started hearing rumours about "problems" at the new Ghana Airways, we were naturally concerned.
Our preliminary investigations are yielding insights that seem to validate the rumours.
We are keeping details out of the public domain as we continue with our investigations, but in the public interest, we feel we should sound the alarm in time.
If there is one test for the NPP government to pass ASAP, it is getting the new airline in the air. We had thought that by the first quarter of 2005, (at least that's what we were made to believe in 2004) Ghanaians would have the joy of seeing physical signs of their new carrier.
From what we are hearing, if the new airline will fly at all, it would be sometime in October this year! We are told, a plethora of decision makers are adducing many reasons and excuses as to why this or that cannot or should not happen regarding the airline, leading to inertia and frustration.
The more we delay in getting this new airline flying, the more we allow others to muscle in on its lucrative routes and create other problems for it before it even takes off.
The psychology of it does not also sound right: With this air of dithering, how do we expect Ghanaians, who would be the main customers of the new airline regard it?
Positive Change Chapter II, we believe means action.
Let's see some positive action then at the new Ghana Airways.