President Jammeh Of Gambia Is True Freedom Fighter And Deep Frying Pan - African
....Any reason for Yaya Jammeh to attend funeral service of Nelson Mandela?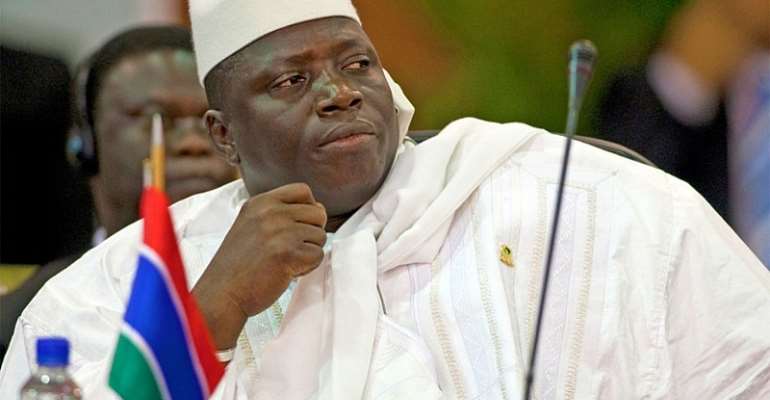 What the talk is about
Debate erupted over why President Yaya Jammeh of Gambia should show up face among world leaders paying last respect to South African freedom fighter and peace maker Nelson Mandela. Those in disagreement with Gambia's iron fist military dictator challenged him over his record of human rights violations which now raised the profile of Jammeh as one of the world's predators.
In Gambia, when Jammeh addresses a nation of less than 2 million population he calls himself freedom fighter. He claimed having freed Gambia from 30 years misrule by regime of deposed President Sir Dawda Kairaba Jawara, from 18 February 1965 to 22 July 1994 and what he calls 400 years British rule. It is not clear what account of history Jammeh banks on when he talks about British rule in Gambia spanning 400 years.
Unmaking of coup makers
On 22 July 1994, Jammeh and his cohort of junior military ranks took to the streets of Gambia in what started as protest over unpaid service allowance. Later this was to become a coup when President Jawara was made to believe that conditions advanced beyond control. Some accounts of the event in question had it that Yaya Jammeh was not true leader of the coup but only chosen to lead by occasion of his elderly social rank within the immediate coup making gang.
Less than 10 years since seizing power by force of arms Jammeh eliminated many of those who helped him topple Gambia's democratically elected government to be replaced by military dictatorship. Some of them have been arrested, detained indefinitely, and others died while serving jail sentence as political prisoners.
Now more than 23 years, all those coup makers vanished leaving Jammeh as the last man standing for worst times in Gambia.
Gambia Fear Rules
Before 15 years in forced rule, Jammeh's grip on power reached fatal limits. He warned strictly that journalists would be buried six feet deep. That promise was kept to the letter when Deyda Hydara a leading journalist was shot at close range by masked operatives acting on commands of Yaya Jammeh on 16 December 2004.
Freedom of speech attracts the loss of life risk proportion. Not only for journalists but ordinary people in society have to keep tight lips over commonly known facts. Gambia government put laws in place that make it criminal for anyone to pass simple information. Several people have since been charged for "giving false information to public officer."
Fear of persecution becomes the unbearable fate of Gambia's compact majority. What nobody will say in public continues to fuel gossips and tongue biting grumbles all around the country. It was not until Amnesty International broke the long silence about fear in Gambia that the world began getting more serious about plight of a suffering million plus persons under electric grips of an imposing iron fist dictator. By far the most authoritative documentation on state of fear in Gambia Amnesty International has done great justice to people being denied basic right of opinion. http://www.amnestyusa.org/research/reports/gambia-fear-rules
Pan Africanist or Frying Pan of Gambia
While presiding over a nation suffering in silence due to fear, intimidation, and high handed brutality, Yaya Jammeh claiming to be Pan African begs for meaning. It was due to his loud pronouncements about Africa that Jammeh prefers being seen as reinventing a continent you never heard about. He lambasts Western nations for exploiting Africa and insists that all that the West stole from Africa will be recovered.
The irony is that Jammeh is stealing so much from Gambia including grants and money borrowed from Western countries. He came to power so poor and now commands wealth more than total of Gambia government possessions.
Going by the amount of fire pressure imposed on Gambians by Yaya Jammeh, he is more of a Big Frying Pan of Gambia ready to melt down whole nation by his whims and caprices without remorse.
Desire for Western Lifestyle
Jammeh owns several properties at affluent locations in Western countries and America. His wife and children speak French and English. His wife shuttles between Gambia and America not by African bamboo boats but private jet. She shops at most expensive boutiques in America and Western nations around the globe. Jammeh still insults the West for exploiting Africa. He holds special prejudice for America and Britain by word. How much he enjoys Western lifestyle is no secret when you look at the ways of his wife who stands stiff to challenge any fashion woman in the West that Jammeh so openly lambasts. Two of his only known children were born in America by choice. They attended special American school in Gambia.
Was Jammeh in the right place of history for Mandela's funeral service?
Rubbing shoulders with world leaders in a show of face is another way of saying he was part of great history. It is not clear if Jammeh was invited or gate crashed his way to be seen among world leaders at funeral of Nelson Mandela.
A president who openly said over national television that he will carry out mass killing of the majority Mandinka ethnic group cannot be taken light. Jammeh failed all his promises of transforming Gambia into superpower world class standard. For his promise to kill, he always carried that out to the letter.
President Obama's Message to oppressive leaders
Aware of the true nature in some of the world's predators, President Obama made sure that history was not cheated by cheap profiles. His message was short, simple and clear. He denounced those who wished to associate with the liberation struggles of Mandela while denying their own people basic freedom and sending their citizens to prison for expression of opinion or choosing a political party. If that is not enough for the wise, then don't blame fools.
Freedom Fighter or Fighting against Freedom
In the eyes of blinded Jammeh supporters, he is freedom fighter. When you turn the page, the clear picture depicts Jammeh fighting against and not fighting for freedom. In Gambia people are not free.
Looking matters at hand President Yaya Jammeh may be described as freedom fighter if that means fighting against freedom of others. The debate rages. You choose if people in the league of Jammeh are Pan Africanist freedom fighters or African Frying Pans putting fire on others.