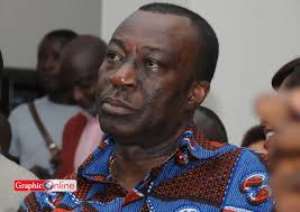 Dr. Anthony Akoto
The Old Tafo Constituency NDC Parliamentary Candidate, Hon. Memuna Kabore Abu-Bakr Siddique has stated that Old Tafo Constituency people have made a big mistake for electing Dr. Anthony Akoto Osei as their MP.
According to her, Dr. Akoto does not think of his people adding that he has no plans for their welfare. She added that, the MP has not been accountable to the constituents, he only comes to the constituency during election period like this.
She said this when she submitted her forms to the Old Tafo District Electoral Commission.
Touting her achievements in the constituency, the Deputy Director of Programs at the Office of the First Lady, said she has "provided 40 computers to four Senior High Schools". I have also provided scholarships to some students, and some of our mothers in the market have also benefited from MASLOC loans I lobbied for them. Many of them will receive theirs very soon".
She challenged Dr. Akoto to "tell the good people of Old Tafo, Pankrono and Adabraka what he's done with our share of the common fund, NHIS fund etc".
She also added that she is ever ready to face Dr. Akoto in a debate to account to the people of the constituency. "What has Dr. Akoto done for us? That's the question I am asking on behalf of the electorates".