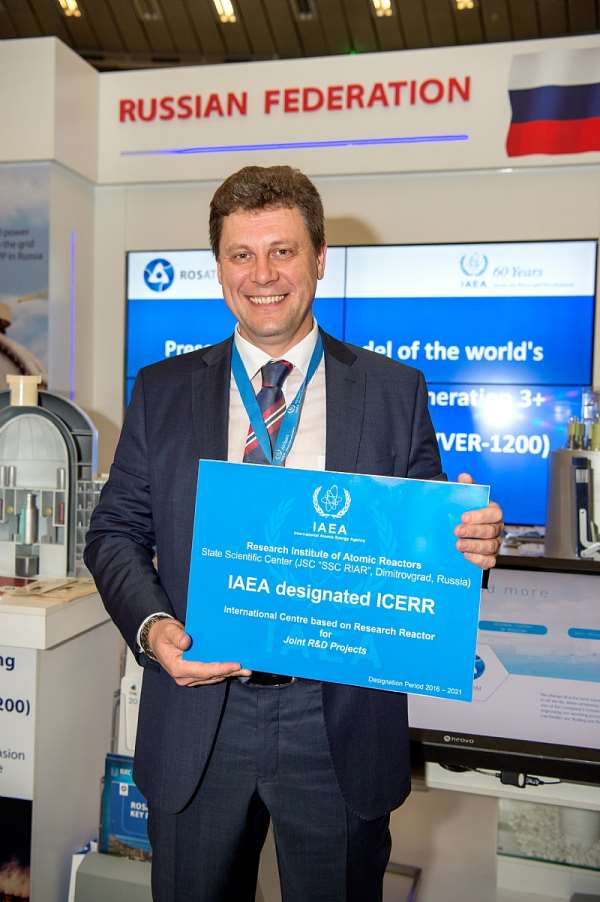 On the sidelines of the 60th General Conference of the IAEA in Vienna, Yukiya Amano, General Director of the IAEA, Sergey Kirienko, CEO of Rosatom and Alexander Tuzov, Director of the State Scientific Center – Research Institute of Atomic Reactors, JSC, signed an agreement under which the Research Institute of Atomic Reactors is recognized as the International Center that will implement joint scientific and research projects based on research reactors (ICERR). The new status of the Research Institute of Atomic Reactors (RIAR) will remain effective for five years.
RIAR is currently building the most sophisticated research reactor in the world – multipurpose sodium-cooled fast neutron research reactor (MBIR), due to be commissioned in 2020. MBIR reactor will open a new page in the history of nuclear science, in particular regarding new technologies for radioisotope and modified material production, broaden the spectrum of experimental capabilities of the sector and support sustainable development of nuclear power in future.
The Institute specialists made a lot of preparatory work before the Russian scientific center was granted the ICERR status. In July this year, the RIAR went successfully through the special audit in the course of which the IAEA mission evaluated experimental capacities of the Institute, foreign customer relationship management and Dimitrovgrad infrastructure.
"We appreciate the openness of our Russian colleagues during the mission. We were also satisfied to note their high motivation and professional expertise", said Andrea Borio di Tigliole, Head of the Research Reactor Section at the IAEA after the audit.
At present, there are only two organizations in the whole world that have the ICERR status: the State Scientific Center – Research Institute of Atomic Reactors, JSC, and the Alternative Energies and Atomic Energy Commission, France. "Granting such a high status is the recognition of the Institute as a world leading scientific center. We are the major nuclear scientific organization in Europe with quite a large amount of scientific researches. I am sure that the International Center status opens up more opportunities for interrelations with our foreign partners," noted Alexander Tuzov.