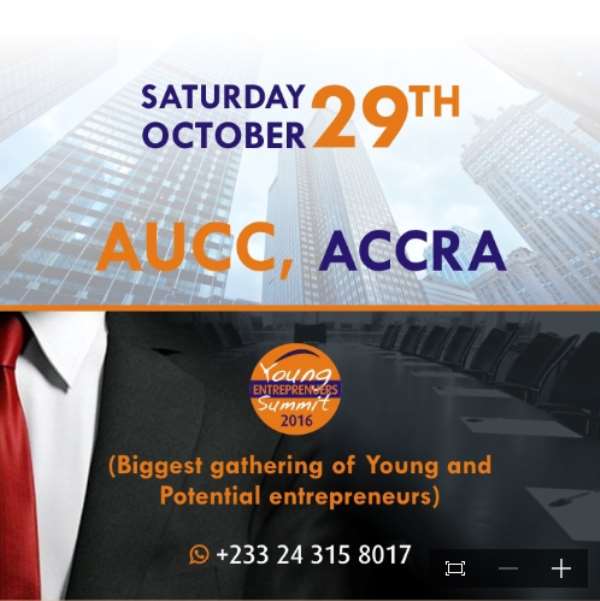 Organizers of Young Entrepreneurs Summit have hinted that registrations have begun for the 2016 edition.
To be held at the Auditorium of the African University College of Communications (AUCC), in Adabraka, Accra, on Saturday, October 29th, this year's edition will host over 500 young and potential entrepreneurs, as well as tertiary students.
The Summit is organized by the Youth Business Network (YBN) in collaboration with the Ministry of Employment and Labor Relations, Ghana Investment Promotion Centre (GIPC) and the National Youth Authority, to imbibe entrepreneurship in the youth, and to inspire them to greater heights in their entrepreneurial endeavors.
In a press release, the coordinator of the event; Solomon Adjei, stated that this year's edition, themed "Business Unusual", have been strategically put together to practically teach the youth on key strategies that ensures a business succeeds, and it is to inspire generations whiles turning the many Ghanaian jobs seeking youth into jobs creators.
He hinted that 3 seasoned entrepreneurs have been invited to share their ocean of experiences with the audience. Also, 10 successful youth entrepreneurs will handle the Breakout session, sharing their success stories. The event will also witness massive exhibition center, where the young entrepreneurs will have the opportunity to showcase their products and services to attract Investors and Mentors, as well as sales.
Solomon however reserved the Speakers list, saying it will be announced at a later date, but however called on all entrepreneurs, potential entrepreneurs, and students to log on to www.youngentrepreneurssummit.com for further details, and to register for the summit. Interested persons can also text their full names to 0243158017 to register.
Young Entrepreneurs Summit 2016 is sponsored by the African University College of Communication (AUCC), Nallem Clothing, Honda Motors, Special Ice Mineral Water, Special Drinks, among others.