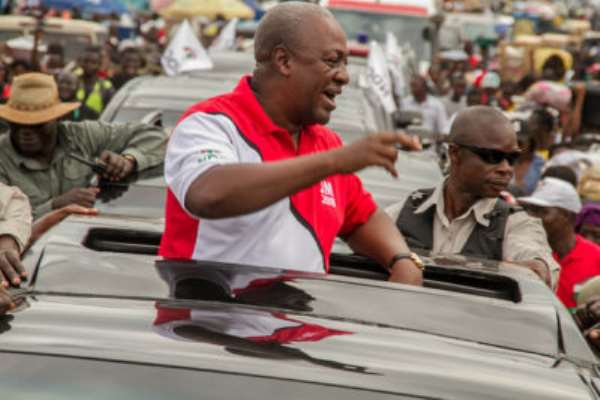 Coordinator for the National Democratic Congress' (NDC) 2016 election campaign, Kofi Adams, has defended President John Mahama who has been accused of splashing money to passersby on one of his campaign tours.
President Mahama, while campaigning in the Greater Accra Region, was captured on a video which had gone viral on social media, in which he's seen distributing some items believed to be money.
He has since been accused of taking the practice of vote-buying to absurd levels, ahead of the December 7 polls.
But speaking on Eyewitness News, Kofi Adams said the President did not commit such an act as being speculated.
He explained that "there were multitudes around the vehicle but he [President Mahama] pointed to a particular person away and handed what I saw to be party paraphernalia to the person."
Kofi Adams also argued that, assuming it was even money the president was distributing, he sees nothing wrong with it.
"Assuming without admitting that it was even money that you decide to give to somebody, can that be described as sharing?"
Ignore Mahama's vote buying propaganda
The NPP has urged Ghanaians not to heed to alleged vote buying tactics employed by the NDC ahead of the December polls.
They made the call after the President visited the Western Region few months ago, where he distributed outboard motors and other items to fisher folks in the region.
"The NDC government took over in 2009 and ordered all projects to stop and so the cold stores construction which was on going, and the Nyanyaano one about almost completed, was stopped till 2015 (6 years) and just last week that of Shama and Half Assini after 7 years were commissioned," the NPP in the Western Region said.
–
By: Godwin A. Allotey/citifmonline.com/Ghana
Follow @AlloteyGodwin