Kinshasa (AFP) - Next to a mountain of still smouldering papers, Gaston wipes away tears. "That's my desk. It's completely burnt," he says, his voice trembling.
The archives of the Kinshasa court where he worked went up in smoke in an attack on the building during two days of deadly clashes in the city earlier this week.
Gaston says he watched helplessly as the fire set by a "very angry" crowd swept through the courthouse on Tuesday, leaving him able only to save himself.
The attack took place on the second day of the unrest which pitted security forces against young people demanding the resignation of President Joseph Kabila. According to police at least 32 people were killed, while the opposition put the death toll at over 100.
"My job is finished, the day after tomorrow I'll be unemployed," says the court worker, in his sixties, who lives in a city of 10 million where good, secure jobs are hard to come by.
The violence erupted ahead of a planned opposition rally on Monday to call for Kabila, who has ruled the Democratic Republic of Congo since 2001, to step down when his mandate ends on December 20.
Kabila is yet to call elections, fanning fears he plans to stay in power despite pressure to step aside from his domestic political opponents, as well as the United Nations and Western powers.
Without justifying the bloodshed, some Kinshasa residents say they can understand that people are exasperated over miserable living conditions and the desire for political change.
"Kabila must leave power," said Thomas Mbudi whose home, rented from a Chinese merchant, was destroyed and vandalised. The police station a few dozen metres away was also ransacked.
'Getting poorer and poorer'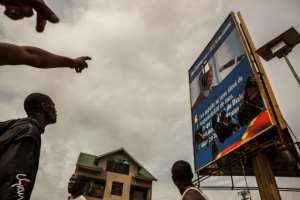 Demonstrators point at a broken billboard showing the face of Democratic Republic of Congo President Joseph Desiree Kabila during an opposition rally in Kinshasa
The head of administration at the courthouse in the city's Ndjili district was matter of fact about the unrest.
"It was a popular uprising which demonstrated the discontent," said the administrator who gave his name only as Francois.
A nearby grain storage warehouse was completely looted.
"Most people can't afford the corn produced in Congo," said a man who gave just his first name Patrick. "It was anger that made people loot," he added.
He added that in his view there wasn't a particular problem with Kabila, "but we want him to say publicly he that he does not plan to run for another term and for the president who succeeds him to bring jobs for the people".
While life in the capital largely returned to normal on Wednesday, many residents were unwilling to comment on the violence.
Ndjili, one of the areas of the capital most affected by the clashes, saw petrol pumps, police posts and businesses run by Chinese nationals attacked.
A heavy police and military presence remained in place on Wednesday with police and soldiers making sure that crowds were not allowed to form.
"We are angry," said Tresor, a young unemployed engineer. What happened "was to warn those who govern us to govern the country well".
"We don't intend to put up with seeing them enrich themselves more and more while we get poorer and poorer."