Abidjan (AFP) - Cheick Sallah Cisse has gone from obscurity to national hero after winning the Ivory Coast's first Olympic gold, but insists his celebrity status won't distract him from his taekwondo title defence in Tokyo.
"People look at me differently now, I've become a national symbol. I can't walk in the street without being recognised, I'm a star," the 23-year-old told AFP.
Cisse clinched the men's under-80kg taekwondo title with a dramatic last-second move in Rio and was honoured for his exploits on his return home, receiving a new house and a 50 million CFA franc (75,000 euro, $84,000) cash bonus.
Before Rio, the Ivory Coast had only one medal to its name -- the men's 400m silver picked up by Gabriel Tiacoh at the Los Angeles Games in 1984.
That all changed when Cisse stunned third seed Lutalo Muhammad of Great Britain with a four-point score right at the death to win 8-6.
Rio proved a breakthrough for the African nation with Ruth Gbagbi becoming the first Ivorian women's medallist with bronze, also in taekwondo.
Both were honoured by Ivorian head of state Alassane Ouattara on their return home.
Cisse pleaded for an improvement in conditions and training for athletes, and Ouattara promised to examine what could be done.
"We were supported. The Government did what it could...but we need new laws passed so that athletes can live off their sports," declared Cisse.
The majority of Ivorian athletes train in difficult conditions and find it hard to raise funds to meet their costs.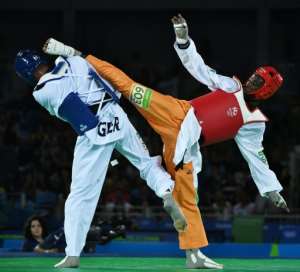 Ivory Coast's Cheick Sallah Junior Cisse (R) lands a foot on Germany's Tahir Guelec during the quarter-final in Rio 2016 Olympic Games
"We have talented boys and girls in taekwondo ... we have to help them," insisted Cisse. "I want to tell my little brothers to believe in their dreams.
"I've gone from nothing to become someone, without any help."
Iranian inspiration
Claiming a coveted Olympic gold has been a dream come true for Cisse who was born to a modest family in the central city of Bouake.
He took up martial arts at the age of eight, beginning with shotokan, moving on to dedicate long hours to taekwondo despite the opposition of his father who wanted him to focus on his studies.
His passion saw him crowned African champion in 2014, drawing inspiration from the Iranian teaching method "for the spirit, the strength of character of their fighters".
"I like everything they do. They highlight the qualities of a good taekwondist namely the heart, courage."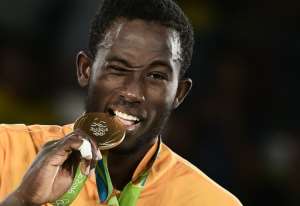 Ivory Coast's Cheick Sallah Junior Cisse poses with his gold medal on the podium after the men's taekwondo event in the -80kg category as part of the Rio 2016 Olympic Games, on August 19, 2016
He insists that despite his new-found fame his feet are firmly on the ground.
"The greatest motivation (to win again) is to relive once again (the honours on returning home).
"People approach you, they congratulate you, it's nice, touching, all this gives me strength to achieve even more."