NDC Manifesto Launch: 8 Claims Fact-checked – Only One Entirely True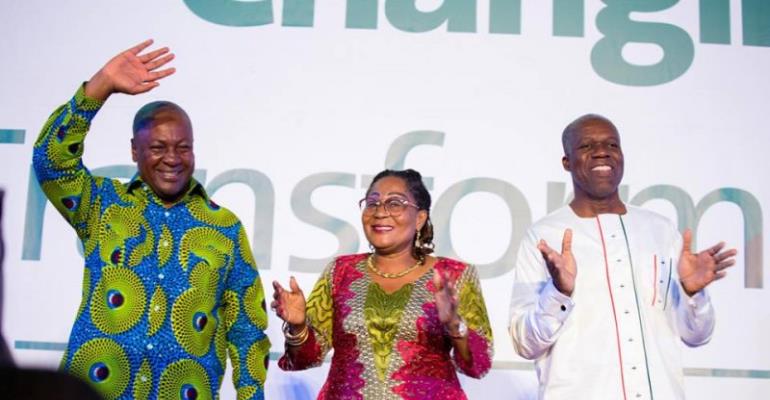 The NDC party launched its 2016 manifesto in Sunyani, last Saturday in the Brong Ahafo Region. Various speakers, including President John Dramani Mahama, Hons. Alban Bagbin, Nana Oye Lithur and Fiifi Kwetey made some claims at the event, with some quoting statistics. Out of eight of such claims which were fact-checked, only one of them was found to be entirely true. Below is the breakdown of the personalities, their claims and the verdicts the fact-checking team arrived at.
President John Dramani Mahama
Claim 1: This record (corruption) is even made clearer if you analyse Ghana's course on the Transparency International's Corruption Perception Index. This is the most credible corruption perception index in the world. Here again, our record is better than any other year between 2001 and 2008
Verdict: Half True
Claim 2: Ghanaians are living longer per the Human Development Report of an average of 63 years life expectancy in Ghana. On this composite index we are second only to Cape Verde in West Africa and far ahead of other countries in the same sub region.
Verdict: Half True
Hon. Alban Bagbin
Claim 1: "Ghana is the second largest economy in West Africa after Nigeria and the 12 largest in Africa."
Verdict: Entirely True
Claim 2: Ghana has the "highest national income" amongst its neighbours
Verdict: True but Misleading
Claim 3: The quality of life of Ghanaians has increased tremendously…the life expectancy of Ghanaians has improved from 58 years in 2008 to 64 years in 2012. This means that Ghanaians live longer and better lives than they did in 2008.
Verdict: Mostly False
Hon. Nana Oye Lithur
Claim 1: In 2008, they registered a 1,640 households. As we speak today, H.E. President John Dramani Mahama has registered 217,000 households under LEAP.
Verdict: Not Verifiable
Hon. FIIFI KWETEY
Claim 1: "But listen, even though they [The NPP] had so much more revenue than us, between 1993 to 2000…NDC was able to build houses...How many houses did NPP build? Zero, not even one chamber and hall! Not even one single room was completed in eight years of the NPP.
Verdict: Completely False
Claim 2: Now under transport, JM has brought about the largest investment in the history not just in Ghana but in Africa. 1.5 billion dollars that has been invested to transform the ports of Ghana.
Verdict: True but Misleading
As part of its project to promote issues-based and fact-based campaigning, the MFWA has commenced a project to fact-check claims and allegations being made by key political stakeholders in the electioneering process. The fact-checking project is being implemented with funding support from Germany's leading media development organisation, DW Akadamie. A dedicated team of experienced journalists and researchers have been engaged and trained for the fact-checking of campaign claims based on a fact-checking Instrument. Fact-checkers also have back-up support from international fact-checking experts. Claims are fact-checked by cross-checking claims with existing empirical data from credible and trusted national and international institutions.
Kindly visit www.fact-checkghana.com for the full reports on these claims and more fact-checked reports on other key political actors.