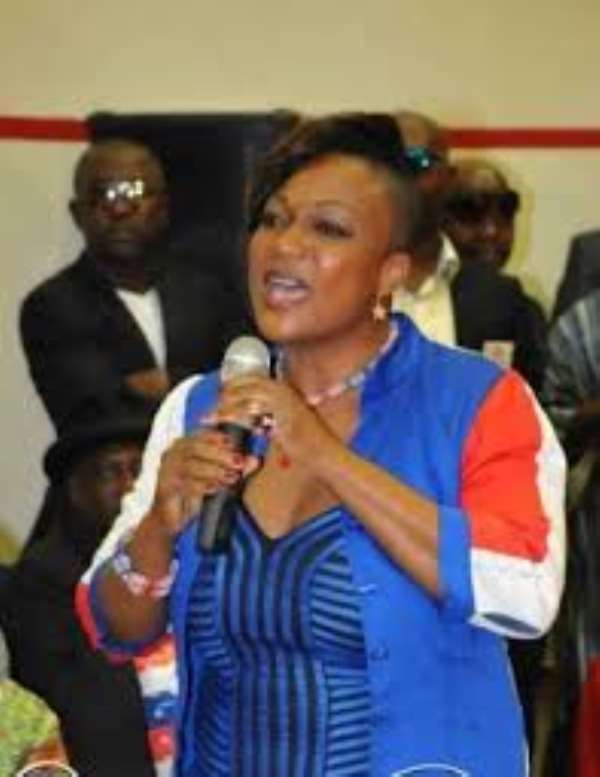 By Kwabia Owusu-Mensah GNA
Atimatim, (Ash), Sept 19, GNA - The National Women's Organizer of the New Patriotic Party (NPP), Ms. Otiko Afisa Djaba, has rallied the supporters to reach out to every voter with the party's message of change to win them over.
Ghana, she said, needed to change course and could not continue to travel the path of deprivation, joblessness and widespread suffering.
She added that the country should not continue to work for few people but must work for everybody and this was what the NPP government, led by Nana Addo Dankwah Akufo-Addo, was going to ensure.
She was inaugurating the 'Women and Girls for Change Clubs' of the party in the Afigya-Kwabre Constituency at Atimatim.
Ms. Djaba urged the women to lead the election campaign - aid people to appreciate why they should trust the NPP with their votes.
She asked that they worked together as a team and accepted to make sacrifices to bring the party back to power to lead the economy back to real growth and progress.
Odeneho Kwaku Appiah, the Constituency Chairman, called for the Electoral Commission (EC) to do everything to ensure that things were done in a more transparent manner to remove suspicion.
He touched on the special voting exercise to be held a week before the general election and asked that the political parties became satisfied with the security arrangements to protect the integrity of the ballot.
At every stage, there should be active involvement of the party representatives so that the ballots would not be tampered with by anybody, he said, adding that, the decision of every voter must be respected.
The EC has scheduled the special voting for its staff, security personnel, the media and others, for December 01.
Odeneho Appiah, underlined the resolve of his party to remain vigilant and said it was not going to leave anything to chance.
The party was determined to work to ensure that the conduct of this year's election was free, fair, accurate, transparent and acceptable to everybody.
Mr. William Owuraku Aidoo, Member of Parliament (MP) for the area, encouraged women and the youth to take the centre stage in the campaign to wrest power from the governing National Democratic Congress (NDC) to end the harsh economic conditions.
The NPP, he said, had extremely capable people, who could turn the struggling economic around, to create wealth and jobs for the people.
GNA