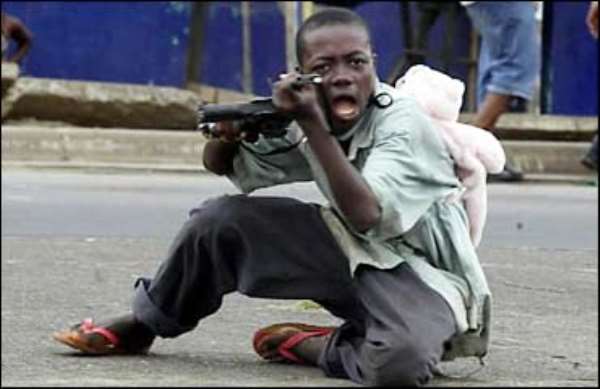 Monrovia, Feb. 15, 2005 -- The fear of reprisal has gripped the Ghanaian contingent of UNMIL after one of their soldiers was recently hit and killed at a check point in Gardnesville following the shooting down of a Liberian by a Ghanaian soldier.
The accident victim, Cpl. Azuma Musa, was guarding the check point near the Double Bridge in Gardnersville when he was hit by one Wellington Hill, a Liberian driver of taxi cab, plate number 6377 in the early hours of February 5.
Eye witnesses said the driver lives in the vicinity of the check point. He was reported to have taken off from his house, few yards from the check point, in a terrific speed only to skid off his main lane and hit the Ghanaian soldier manning the check point.
The driver was reportedly unhurt but the injured victim was rushed to the Redemption Hospital in Newkru Town where he was later pronounced dead. The remains of the Ghanaian soldier have been deposited at the morgue of the John F. Kennedy Medical Hospital.
Meanwhile, police have investigated the case and charged the driver with recklessness resulting to death. The case is reported to have been transferred to court and the driver is out on bail awaiting trial.
At the same time, several Ghanaian soldiers of UNMIL have expressed fear of reprisal over the gunning down of a Liberian by a Ghanaian soldier. Reports say the Ghanaian UNMIL soldier might have mistaken the Liberian taxi driver for a suspected criminal late in the night.
An UNMIL Ghanaian soldier, speaking to our reporter on condition of anonymity, sees the accident as "a calculated plan against the Ghanaian soldiers serving with UNMIL" following the shooting down of the Liberian.
He said the incident is under investigation and appealed to Liberians "not to take the law into their own hands by attacking Ghanaians or any other UN soldiers".