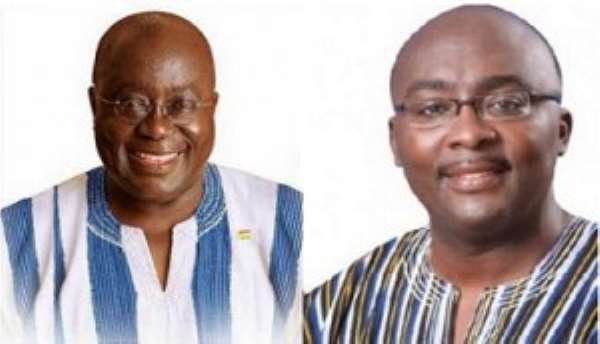 It is often said 'He who angers you conquers you'. But the Osono family is too old to be disturbed and angered by the fanaticism and fantasy of the downmarket African Watch Magazine's extreme provocation.
For the past few weeks NPP IRELAND has read and noted to our utter disbelief the stomach-turning slanders, innuendos, disgusting, and downright nasty attempts to tag our honourable leader with fake prostate cancer warnings and doctored medical report. Africa watch magazine has been trying so hard to position itself as an authority in our contemporary political discourse but we in the NPP and indeed many Ghanaians will not be fooled by their agenda-setting propaganda.
Many a people, as in social and political commentators, politicians and even ordinary citizens have all registered their displeasures and opinions against this infantile attempt by the downmarket media outlet- AFRICA WATCH MAGAZINE INTERNATIONAL to project negatively, Nana Akufo Addo, as a prostate cancer sufferer with Prostate Specific Antigen [PSA] count of 89.9.
Ordinarily, we would not have wasted our precious time in engaging these myopic, phoney, dodgy, and faceless people behind this magazine on their questionable health dossier on our leader at this point in time after Professor Gyamfi came out to debunk this obvious falsehood, and also given the fact that the countdown to the elections is nigh; where we are determined to win to be able to implement policies and programmes that would well serve the good people of Ghana.
However, what we felt is missing in this diabolically generated political discourse in recent days across all media landscapes in both within and without Ghana which compelled us to respond is the ELEPHANT in the room – the legitimacy and the very existence and operations of the phony unit called Africa Watch Magazine. (It claims to be registered in Ireland-We shall tackle that below). We even wonder if any medical practitioner worthy of his or her qualification, especially in Europe, will work against the professional code of ethics in revealing Private and Confidential medical records of a patient to garbage entity such as NDC led and financed Africa Watch Magazine.
The ace sport broadcaster Kwabena Yeboah could not have been more right that 'facts are scarce but comments are free'. We herein condemn African Watch Magazine and its perpetuators in no uncertain terms and we promise they would pay a severe price for this reckless and needless misinformation and feeding Ghanaians with political chaff. NPP Ireland sincerely agree to the fact that in all matters of public interest and national security, publishers and news editors must make judgement and err on the side of caution at all times and not to do otherwise! For facts are facts.
Most significantly, we would like to set the record straight that this vicious assault tinged with character assassination is orchestrated not the least by Opana- the President and Mr Kwasia Bi Nti Gen. Asiedu Nketiah Mosquito.
Ghanaians are very much aware and alert that just the other day, the President promised and urged his troops to engage in decent campaign in Takoradi but soon afterwards, what did we see, President Mahama and his untamed ministers such Nii Lantey Vanderpuye have resorted to name calling, mimicking, attacking and insulting the very personality of Nana Akufo Addo instead of concentrating on the burning socio-economic issues affecting Ghanaians at large as a result of their inept political administration. Fact is NDC functionaries and their families are living on different planet and as such they do not feel and see the untold real economic hardship the "ordinary Joes" of Ghana are living through on daily basis.
It is by pure magic if not miracle for an average citizen to be able to put a decent meal on the table for their families under the Mahama-led government.
NDC ever since its inception can only be described as professional squealers who often turn black into white in reminiscent of George Orwell's fictional Animal Farm Kingdom. Remember the pigs as in Old Major, Boxer and Napoleon and ever Snowball!
As we alluded to earlier on, we would have let the sleeping dogs lie without reacting to tittle-tattle sensational stories typical of the British Tabloids but the fact that this irrelevant and ignorant magazine claims to be headquartered and operating from Dublin, capital of the Republic of Ireland, we cannot help but to respond adequately and put the hoodlums behind the said report in their rightful place.
BOGUS, PHONY and FRAUDULENT AFRICAWATCH MAGAZINE INTERNATIONAL EXPOSED
Per our painstaking investigations, the faceless mercenaries behind the derogatory and falsified health report of our leader are these stomach-inclined writers as shown below. The preamble and the introductory mission on their webpage which cites Ireland as the headquarters of their illegal media outlet and operations read thus:
'The magazine is led by talented and dedicated investigative Professional journalist, Contributors, and published. And it is based in Dublin, Republic of Ireland, and has Offices in Holland, Germany, France, USA, UK South Africa, Nigeria, Ivory Coast, and Zimbabwe' –Professionals indeed!
Publisher & Editor-in-Chief: Malcolm O.Eremionkhale; Associate Editor, Joe Odiboh; and Deputy Editor, Ian Callagy.
Significantly, the above cohorts state their company contact details and address as:
Africa Watch Magazine International, 18 STEPHENS LANE, DUBLIN 2, IRELAND,
TEL: +353 1 6619289 FAX: +353 1 6619332
NPP Ireland wishes to hereby inform the Ghanaian public and all and sundry across the globe by this solemn declaration that all the above details, contact, information are fake and do only serve as a SMOKESCREEN as far the Republic or Island Ireland is concerned to throw dust into the eyes of unsuspecting readers.
Generally, our investigations were based on Africa Watch Magazine's claims of the address of 18 Stephens Lane, Dublin 2 and that its major business and operations are organised and based in Ireland.
Dublin 2 district comprises Southside of the River Liffey and ever popular Merrion Square, Temple Bar, St Stephen's Green and it also houses Government Buildings including the Dail (Irish Parliament).
We would like to place on record that 18 Stephens Lane used to be a hang-around for homeless people, junkies, drugs peddlers and addicts in the heart of Dublin City. And currently, the space is occupied by a gym company called BODY PROJECT which specialises in Intensive Weight Loss as well as Personal Training.
The accompanied photographic evidence speaks for itself on dodgy Africa Watch Magazine. As fraudsters as they are, the only 3 items on their bogus website all date back to 2013 with captions: Business Opportunities in Africa for Ghana and the U.S.A respectively and the late Freedom icon and South African President Nelson Mandela's picture in the background.
It took our investigators over an hour to locate 18 Stephens Lane which is an Alley Way, off Merrion Sqaure Park and Fitzwilliam Street Lower. This place is so secluded that we are not surprised it used to be a den for drug peddlers and this is where Africa watch Magazine has decided to situate their headquarters. No wonder it is a phony organisation.
CHECKS AND FACT FINDINGS ON AFRICA WATCH MAGAZINE
Our main bone of contention with this bogus media outlet is of two folds: The claim that it is an Irish registered company and fraudulently claiming a property address which it does not own. Therefore, our case is built around the following empirical evidence we obtained from our grounds and inquiries with both private and state officials including institutions.
First and foremost, we wish to give a brief background of the Companies Statute book- Companies Registration Office Ireland. This is the central office of public statutory information on Irish companies and business names under Companies Acts 2014 which replaced the Companies Acts 1963-2013. The purpose for which a company is to be formed or the activity it intends to carry out in the Irish Republic must be declared to their effects and must be signed by a Director or the Company Secretary and the trading address of the business must be specified in the Incorporation and Bond Applications. See [www.cro.ie/company and www.revenue.ie]
COMPLIANCE?
Basically, Companies registered or operating from Ireland must of course comply with Irish Corporate Laws. These include but not limited to the following obligations as shown below:
1. To file account annually which must be audited except when they avail of circumstantial exemptions
2. To file annual returns setting out the details of the company
3. To file returns where there have been changes to the company, changes of directors , secretary or the registered office
4. To maintain the registered office and the Statutory Registers of the company
5. To ensure proper governance and regulations
6. To hold an Annual General Meeting [AGM] at least once in every year excluding the first year of its incorporation
FINDINGS: We challenge the Phony African Watch Magazine to submit all relevant documentations including CERTIFICATE indicating DATE OF INCORPORATION IN IRELAND. They dare not because it is a charlatan organisation financed by NDC and its criminal-minded friends around Africa as an election winning tool. The Irish authorities have promised to probe into our query further.
Secondly, our investigators contacted the Office of Revenue Commissioners which is tasked with both Corporate and Income Taxation Administration in the State.
FINDINGS: FRAUDULENT Africa Watch Magazine does not have any records in their books both hard and electronic database. We call on the Faceless owners of the Magazine to provide current Tax Certificate from the Irish Tax Authorities.
Thirdly, NPP Ireland undertook investigations with the officials from the Utility and Telecommunication companies in the State namely: 3 Ireland, Vodafone Ireland, Bord Gais, Eircom, Electric Ireland et al but none of them has any dealings whatsoever with this fraudulent downmarket Magazine which appears to have a weird fascination with NPP and its leader.
PHOGRAPHIC EVIDENCE
The accompanied photographs captured during our investigations are self explanatory and facts speak for themselves. Comments reserved here and urge readers to decide hereafter.
CONCLUSION
THE ever greatest and boxing laureate was so philosophical when he said inter alia "SILENCE IS GOLDEN WHEN YOU CAN'T THINK OF A GOOD ANSWER"
We at NPP IRELAND have the answers and had spoken in unearthing the diabolic and calculated assault on our Leader and pressing to bring to book the bogus Africa World Magazine International by our investigations. We have the bullet-proof evidence to back up our claims and position that Africa Watch Magazine does not exist or operate from Ireland.
Furthermore, the personal physician, Prof Yaw Gyamfi, of our Presidential candidate has come out to debunk and refute the weightless allegations Africa Watch Magazine thrown on Ghanaians that Nana Akuffo Addo has Prostate Cancer and Kidney Problem. Even his PSA count as of the last check was only 0.03.
[See http://www.ghanaweb.com/GhanaHomePage/NewsArchive/Akufo-Addo-has-no-cancer-Doctor-467192]
This information has been consolidated by Nana's agile and energetic campaign trips all over the country. Crucially, the Wellington Hospital has backed up our claim that no professionally registered medical outfit would release client/patient private and confidential information without a court order.
In the light of the above, NPP Ireland therefore calls on the African Watch Magazine to answer and provide proofs to the following questions or else we shall see them in court sooner than later!
1. When Africa Watch Magazine was registered and incorporated in either Republic of Ireland or Island of Ireland?
2. Are they in possession of a Company Registered Certificate?
3. When were the last annual returns filed and any current Tax Certificate?
4. Proof of utility bills and their bankers in Ireland?
5. When and where the last AGM was organised and held in the State?
6. Tenancy Agreement in relation to the Property of 18 STEPHENS LANE, DUBLIN 2, IRELAND
Simply Put, Africa Watch Magazine should PUT UP OR SHUT UP!
SIGNED
ALFRED MARSHALL
CHAIRMAN
AGYAPONG MR MALIK ADAMS
SECRETARY
NPP IRELAND NPP IRELAND
Tel: 00353 871709505