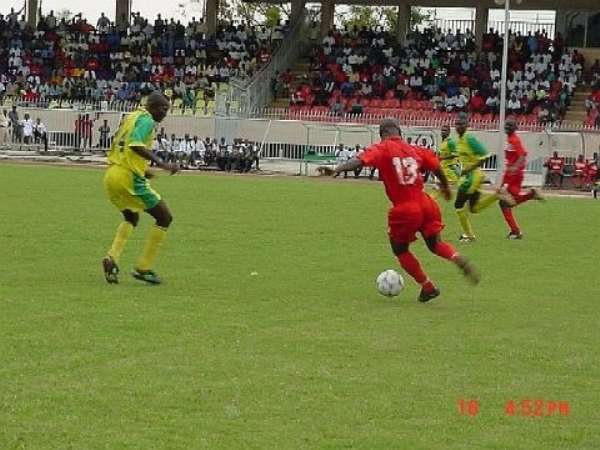 As the new soccer season approaches, the argument about whether to relegate of skip relegation seems to be gaining momentum with many knowledgeable people in the football fraternity advocating the cancellation of demotion for the 2004 season. The crux of the argument of most high-ranking analysts was that the league was fraught with ad hoc measures, denying participants the opportunity to weigh the decisions thoroughly before agreeing to make them operational.
"The league was flawed from the beginning, as participants did not take into account the fact that a club which had played well, earned more points than some teams in the other zone might face relegation while those from the opposite zone survived.
"If they had deliberated the issue thoroughly, it is most likely that a different formula would have been used." said Mr Richard Oblitei Solomon, an Accra lawyer who is well versed in soccer administration. He said the situation, as it stands now has thrown the entire football family into a situation of uncertainty, making it very difficult to justify the relegation exercise.
Mr Solomon said in order to promote the development of the game, a format should be found to retain the premier clubs and allow some Division One Clubs to join the elite class.
The lawyer however advised against clubs going to court, saying that a court action would be a violation of the rules and would not achieve any meaningful purpose other than disrupting the calendar for the year and reversing the clock back to what necessitated the ad hoc measure.
In his comments, a top notch of Accra Hearts of Oak who preferred not to be identified by name said there should be no relegation because the league failed to produce a national champion.
"How do you relegate any club from the premiership when the league was not able to produce a national champion?" he asked. The Hearts official said there should be flexibility in decisions taken about football so that in the final analysis, the development of football becomes paramount in the scheme of things.
He said it would be very difficult to prove that the club, which would be relegated, was worse than those who would remain in the premier league because of the sectional nature of the 2004 competition.
Another analyst, China Acheru, the media officer of Nigerian champions Dolphins of Port Harcourt said relegation should be skipped and the league expanded to accommodate many more clubs because the last league was not national in character.
He said the expansion of the premier league would be beneficial to the nation as it would open doors for many more youth to showcase their talents.
"An expansion of the league amounts to development and it will be in the overall interest of the game if the premier league teams are increased to 20," he said.