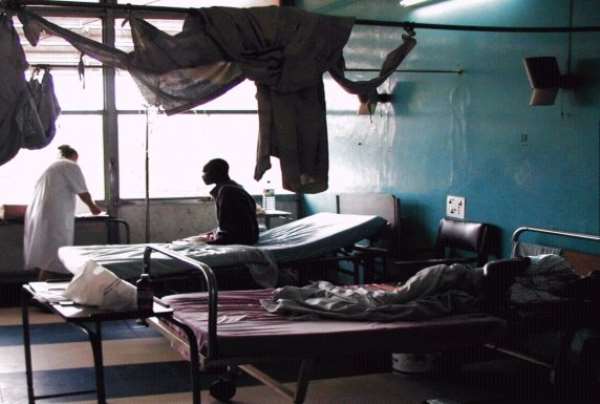 ...Teaching Hospital £10-To-Save-A-Life Fund
Thirty-one Ghanaians based in the United States have donated an amount of $3,310 to the £10-To-Save-Life Appeal Fund launched by the Ghana High Commission in London in March last year to raise funds for the Children's Block of the Korle-Bu Teaching Hospital, Accra.
The highest donation of $1,000 each came from Mr. & Mrs. William Ofori-Boah and Dr. and Mrs Raphael K. Osei with Dr. & Mrs. George Quaye donating $400.00. The donors are all based in New York.
Donation of US$200 came from Dr. & Mrs. Godfrey Gaisie with Messrs Jason Ofori Ayeah, Samuel Owusu and Yaw A. Owusu-Addo donating US$100 each.
Presenting the cheque at the residence of Mr. Isaac Osei, Ghana's High Commissioner to the UK on behalf of the £10-To-Save-A-Life Appeal Fund Committee, Dr. Samuel Akuffo, Chairman of the Committee, described the contribution as encouraging and hoped that it would inspire Ghanaians in various parts of the world to contribute to the fund to help put the children's block in a respectable shape.
The committee has the following as members. Dr. Emmanuel Akuffo, Consultant Psychiatrist and Senior Lecturer at St. Bartholomew Hospital in London; Mrs. Cecelia Akuffo, Director of Carlton House Residential Homes, London; Dr. Lawrence Akwetey, Director Seagull, Trade and Investment Consultancy; Nana Ampem Darko Larbi, Dompiahene of Adukrom, Akwapim; Mr. Kobby Mensah-Kuma, an accomplished architect and Principal of Kuma Environmental Designs Ltd and Mr. Kojo Binfoh, Financial Manager, National Air Services Ltd, London.
The others are Ms. Susan Akomea, a Garment Technologist;, Mr. Noble Adjei-Boakye, Financial Management and ICT Consultant; Nana Kwesi Adarkwa 11, Abesimhene of New Juaben, Mr. Kwame Twum Barima, Financial Broker and Private Business Executive and Mr. Kwame Edu, Secretary of Ghana Union, London. The others are Mr. Ima Plahar, Chairman of Ghana Union, London, Mrs Martha Pepra-Fredua, a representative of Ghana Nurses Association, Mr Peter Wiredu, Vice Chairman of the Committee, Mr Fritz Andoh, Liaison Officer, Mr Charles Wereko, Secretary and Mr Mark Entsie, Financial Secretary.
Receiving the donation, Mr. Osei thanked the contributors and urged other Ghanaians to emulate their good example.
He said the amount of £25,000.00 so far donated to the hospital from contributions fell far short of the mission's target of £50,000.00 which would enable the necessary logistics to be provided for the children's block of the hospital.
He told the members of the committee that they should intensify their efforts to solicit more contributions and urged interested donors to send their cheques to the Ghana High Commission, 13 Belgrave Square, London SW1X 8PN, payable to the Ghana High Commission with the inscription £10-To-Save-A-Life on the reverse of the cheques.