Bongo to be declared winner of Gabon election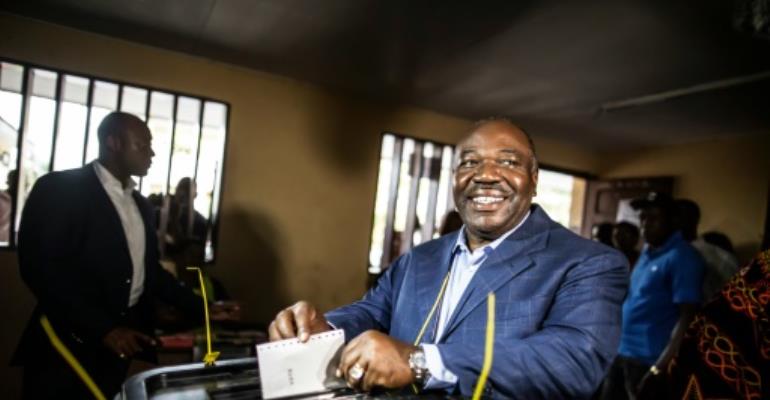 Libreville (AFP) - Gabon's president Ali Bongo was set to be declared winner of last weekend's contested election, electoral commission members said Thursday, in a result that risks inflaming tensions in the Central African nation.
Bongo, whose father held onto power for four decades, sought relection after winning a first term in 2009 in a poll that was marred by violence.
His rival in Saturday's vote, half-Chinese ex-diplomat Jean Ping, has already claimed victory, sparking fears of violence and the deployment of anti-riot police around the capital Libreville.
The election commission met Wednesday to review the results and several members confirmed to AFP that Bongo would be declared winner. Interior Minister Pacome Moubelet Boubeya is set to announce this on television shortly.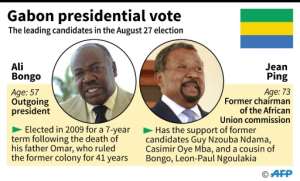 Gabonese President Ali Bongo casts his vote at a polling station in Libreville during the presidential election on August 27, 2016
Any appeal by Ping would be likely to focus on disputed results in one of the country's nine provinces -- the Haut-Ogooue, the heartland of Bongo's Teke ethnic group.
According to provisional figures, Bongo won 95.5 percent of votes in the province, with turnout there at 99.9 percent.
Should these figures be accepted as official, the incumbent would be able to claim 49.9 percent of votes nationwide, narrowly defeating Ping's 48.2 percent.
Bongo's winning margin would be a razor-thin 5,594 votes.
"It's going to be difficult to get people to accept these results," one member of the electoral commission confided to AFP, asking not to be named because of the sensitivity of the subject.
"We've never seen results like these, even during the father's time," he added.
Opposition delegates in the electoral commission boycotted the vote. They had vowed to fight for a recount should the provisional figures be validated.
'Credible results'
As fears rose of a contested result and violence, the electoral commission and Bongo came under pressure from fellow politicians and the international community to deliver a fair outcome.
"The European Union repeats the call made by the head of its observer mission that results should be published for each polling booth," a spokeswoman for EU foreign policy chief Federica Mogherini said in a statement.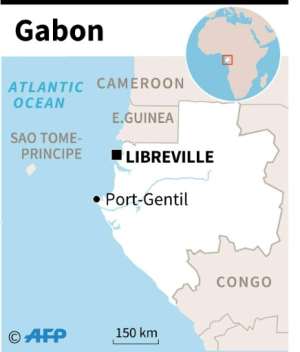 Gabonese President Ali Bongo casts his vote at a polling station in Libreville during the presidential election on August 27, 2016
The ruling party's number two, Faustin Boukoubi, also broke ranks, calling for "fundamentally credible results" in order to maintain peace, "the most precious acquisition of the last decades."
On Tuesday afternoon anti-riot police took position around the capital Libreville and later established checkpoints in various parts of the capital, blocking access to the presidential palace.
Light armoured vehicles also began to patrol along the Atlantic coast.
Pressure from observers
In 2009, Bongo was declared winner of the election after his father's death. In the ensuing clashes several people were killed, buildings looted and the French consulate in the economic capital Port-Gentil torched.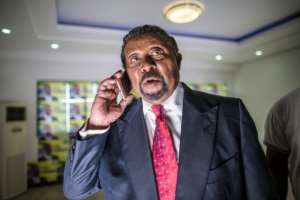 Gabonese opposition leader Jean Ping pictured on August 28, 2016
EU observers, who were barred from the meeting of the electoral commission on Wednesday, said the vote on Saturday was "managed in a way that lacked transparency".
Joining the EU in pressuring Bongo on Wednesday, the French foreign ministry called for "transparency and impartiality" when the results are published.
"Only in this way can the credibility of the results be guaranteed," a spokesman for the French foreign ministry on Wednesday.
Gabon is a former French colony which has been hit by the global slump in the price of crude oil, its biggest export.
One third of Gabon's population lives in poverty, despite the country boasting one of Africa's highest per capita incomes at $8,300 thanks to pumping 200,000 barrels of oil a day.
Bongo, 57, campaigned under the slogan "Let's change together," playing up the roads and hospitals built during his first term and stressing the need to break with the bad old days of disappearing public funds and dodgy management of oil revenues.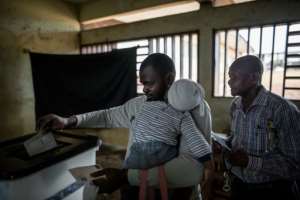 Just under 628,000 people were registered to vote in Gabon's presidential election, which is home to 1.8 million people
The campaign period was marked by months of bitter exchanges between the two camps, including accusations, and strenuous denials, that Bongo was born in Nigeria and therefore ineligible to run.
Ping's own roots -- he is Sino-Gabonese -- served as ammunition for Bongo's camp, which has suggested he and his son are secretly serving Chinese interests.
The two rivals go back a long way, having worked for years together under Bongo senior, who was responsible for getting Ping a job as chairman of the African Union Commission.