Rename Legon after JB Danquah - Okyenhene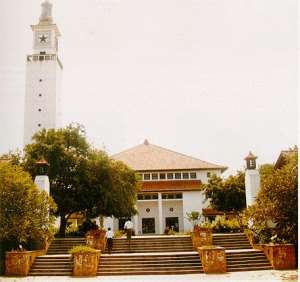 The Okyenhene and elders of the Akyem Abuakwa traditional in the Eastern Region of Ghana area have suggested that the University of Ghana should be renamed after Dr J.B. Danquah, a member of the "Big Six," for his role in establishing the university. The Okyenhene was speaking at the memorial thanksgiving service at the Kyebi Ebenezer Presbyterian Church to mark the 40th anniversary of the death of Dr Danquah.
He said renaming the university would be the appropriate way for showing the country's appreciation for the good works of the late statesman.
Explaining the issue at stake, Nana Yentumi Boaman, chief of staff in the Office of the Okyehene, said "we think that the university authorities should seriously consider this appeal," adding that "had it not been for the late Danquah, the university might not have been built."
In apparent reference to the Akuafo (Farmers) Hall of the university, he said "just naming one hall of the university after farmers is not enough to reflect the historical antecedents related to the establishment of the university."