Tensions high as tight Gabon vote enters final stretch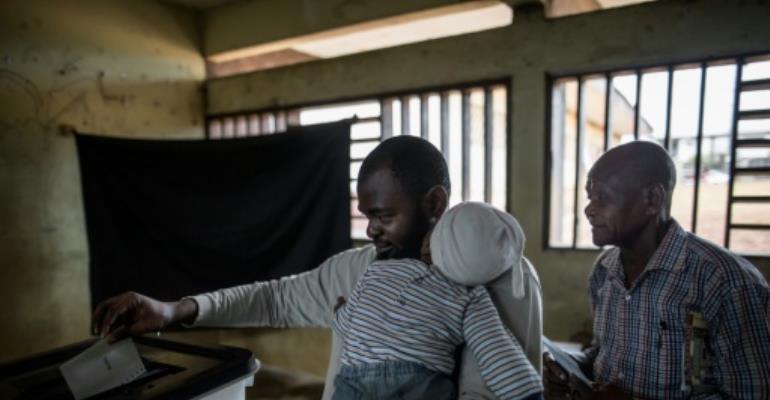 Libreville (AFP) - Tensions ran high as Gabon's presidential vote entered a final stretch Wednesday, with the nation awaiting official results in an election both the incumbent Ali Bongo and his main rival claimed to have won.
The oil-rich country's interior minister is due to announce the official result after a meeting of the Cenap electoral commission, which began on Wednesday morning, according to an AFP journalist.
Two EU election observers were asked to leave the room where electoral commission delegates gathered from both Bongo and his rival Jean Ping's camps -- a day after final results had initially been due.
Many in Gabon fear a repeat of violence that followed the 2009 election.
On Tuesday afternoon anti-riot police took position around the capital Libreville and later established checkpoints in various parts of the capital, blocking access to the presidential palace.
Light armoured vehicles also began to patrol along the Atlantic coast.
Bongo's camp has said the president -- who came to power in a 2009 election held after the death of his father Omar Bongo, who ruled the country for 41 years -- was guaranteed victory.
Ping's supporters have cried foul, while EU observers said the vote was "managed in a way that lacked transparency".
Since late Tuesday, the commission has fiercely debated the vote result in one of the country's nine provinces -- the Haut-Ogooue, the heartland of Bongo's Teke ethnic group.
A report claimed Bongo had won 95.5 percent of votes in the province, with turnout at 99.9 percent.
Should the report's findings be accepted as official, the incumbent would be able to claim 49.9 percent of votes nationwide, narrowly defeating Ping's 48.2 percent.
In other words, Bongo would win by a tiny margin of just 5,594 votes.
Just under 628,000 people were registered to vote in the Central African nation, which is home to 1.8 million people.
Opposition delegates in the electoral commission vowed to fight for a recount, should the figures in the report be validated.
"We will fight. We will count again, polling station by polling station" in Haut-Ogooue, one opposition delegate said.
Cenap chief Rene Aboghe Ella rejected calls by the EU observers for each polling station to publish its results.