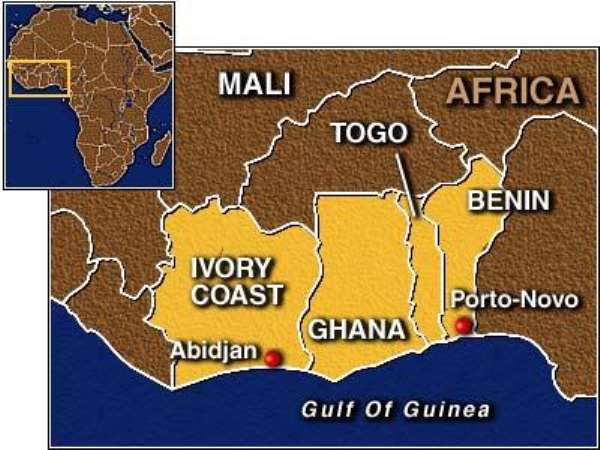 News that Togolese President, General Gnassingbe Eyadema has suddenly gone on a visit to his ancestors must have come as a shock to many, especially since his name had become synonymous with The Republic of Togo.
For a president who had ruled his country the longest since independence, not to mention the fact that he was the longest ruling head of state in Africa, Eyadema had acquired an air of invincibility, which may have made many almost forget he was mortal.
So overpowering was his very name in Togo that even his worst critics may have felt they were kicking against a mountain, in fighting Eyadema. Notwithstanding bouts of illnesses for which he was sent overseas several times, the very robust nature of the man and the awe he inspired, hardly gave room for thoughts on his exit so uneventfully.
Unprepared for therefore, his demise is likely to cause some turbulence in the country. The reported sudden military swearing-in of Faure Gnassingbe, a 39-year old son of the late President, is a worrying development, especially to all who have hoped to see Africa, and Togo for that matter, unburdened of the yoke of military adventurism.
Commendably, the African Union has swiftly stated its position, condemning the succession as a coup d'etat. Fallouts from the developments in Togo may not be very different from what transpired in La Cote d'Ivoire, on the death of their leader, President Felix Houphouet-Boigny. There is still instability there.
There is no doubt that under their current Constitution, the Togolese military had no mandate to decide who acted in the absence of their Constitutionally recognized successor.
Needless to state, there is likely to be, from among even the military itself, persons who would be apprehensive of anything having the semblance of a dynasty. Such elements would, before long, express such sentiments strongly. The envisaged consequences of such developments are surely bound to throw the country into a state of chaos.
As of now, the opposition that had been hounded in the past would also be expecting that even if they had problems with Eyadema and the Constitution as it existed now, any attempt to set the stated rules aside would further dim any hopes they may have had in line with attaining power through an improved democratic process. They, certainly, would not countenance the current situation.
For us in Ghana too, the developments in Togo must be very worrisome. It seems there are many more Togolese-Ghanaian citizens than we have Ghanaians having dual citizenship with any other country. The cost of any untoward developments at our Eastern border is likely to be more devastating for us than we have experienced when such chaotic situations have taken place anywhere else in the sub-region.
The long reign of Eyadema may surely have led to his loyalists occupying key sensitive state institutions and agencies. Even if the military beat a retreat, and allowed the Constitutional order to prevail, it would be a long time, until one could guarantee a stable political environment.
Going by security experts' reports of the presence of many mercenaries in the sub-region, care must be taken to protect our borders, so we do not have a conflagration on our hands.
Many Ghanaians welcomed the measures taken by our President and the government, in promoting good neighbourliness, especially with our Togolese counterparts, as there had been too many tensed situations between us way back to even the National Redemption Council (NRC) days. It is our hope that nothing in the current developments would lead to a reversal of the relaxed atmosphere at our common border.
A sure way of guaranteeing the security of our border with Togo is to stay as neutral as possible in the current crisis that is not likely to end today.