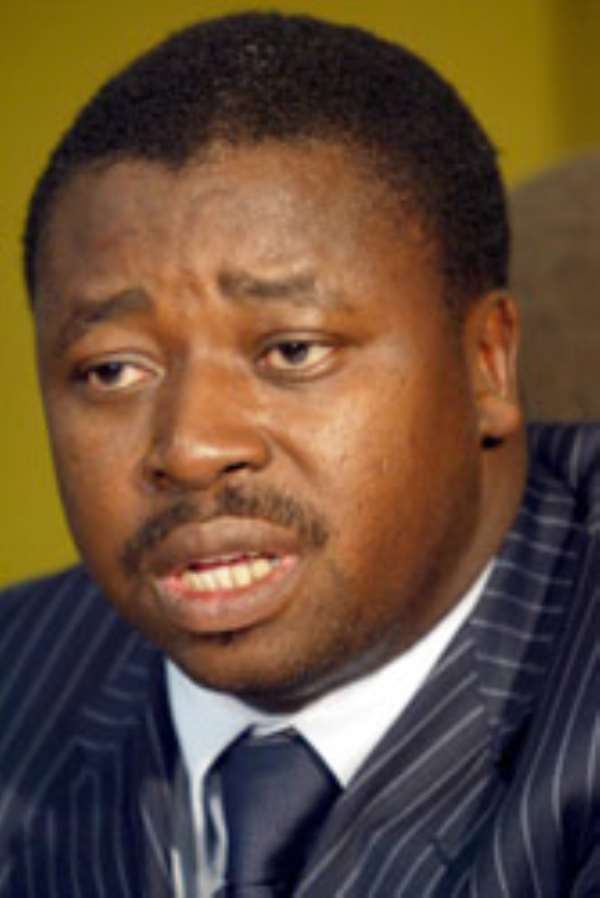 ...to chorus of howls at home and abroad LOME, 7 February (IRIN) - Faure Gnassingbe was formally sworn in as Togo's new president on Monday after his father's sudden death in office. But African and world leaders denounced the move as a military coup and opposition parties at home called a two-day general strike in protest at his seizure of power. Many Western diplomats in Lome boycotted the brief, 15-minute swearing in, although ambassadors from Ghana, Congo, Libya, China, Italy, Belgium and Gabon were present, along with members of parliament. Hours after Africa's longest-serving leader, Gnassingbe Eyadema, died on Saturday after 38 years at the helm, army chiefs suspended the constitution and handed the reins of power to Eyadema's son Faure, who was a minister in the government. According to the constitution, the post should have gone to Fambare Ouattara Natchaba, the president of the national assembly, but the military promptly closed Togo's frontiers to prevent his return from abroad. The African Union (AU) quickly branded the move a "military coup" and France put the battalion of French troops stationed in its former colony on alert. In an attempt to cool international anger, the Togolese parliament, dominated by presidential loyalists, on Sunday voted to change the constitution in order to legalise Gnassingbe's de facto assumption of power. The changes, rubber stamped with virtually no discussion, also allowed Gnassingbe to serve the remainder of his father's elected term, which expires in 2008. But the international community was not appeased. Diplomats from the United Nations, the European Union, France, the United States and Nigeria, the regional superpower in West Africa, boycotted a ceremony on Monday at which the 39-year-old was formally sworn in. Taking his oath, Gnassingbe, who was formerly Minister of Public Works, Mines and Telecommunications, vowed "to respect and defend the constitution and the Togolese people." However, Olusegun Obasanjo, the Nigerian President and current AU chairman, urged his African counterparts not to recognise Gnassingbe as Togo's new leader.
"All African leaders should not accept what has happened in that country until there is a democratic transition," Obasanjo told reporters during a trip to Zambia. "Events that have happened since the death of President Eyadema do not give us comfort that peace will follow in that country." Worried that Togo might become another destabilising force in an already-turbulent region, the 15-nation Economic Community of West African States (ECOWAS), of which Togo is a member, called an emergency summit for Wednesday in Niger to discuss the situation. "Worst route" "What's happened in Togo does not honour Africa... We've told our Togolese brothers not to go in this direction. It's the worst route they could take, it's bad," Niger's President Mamadou Tandja, who recently took over as ECOWAS chairman, told the BBC. "Our position is that we should be following the legal democratic road. Organise democratic elections. Whether it's Eyadema Junior or another man, the Togolese people should decide who leads them," he added.
With Sunday's revisions to the constitution, Gnassingbe can stay in power until 2008 which is when his father's term would have ended. Before the amendments, presidential elections would have been held within 60 days.
The French Foreign Ministry on Monday echoed the calls from Africa for "the swift holding of free and democratic elections to put an end to the transition opened up by the death of President Eyadema and provide the institutions with legitimacy."
And UN Secretary General Kofi Annan added his own rebuke.
"The Secretary-General is concerned that the transfer of power that has taken place in Togo... has not been done in full respect of the provisions of the Constitution," Annan's office said in a statement.
The Togolese authorities reopened the country's borders on Monday after sealing all land frontiers and closing Lome's international airport following the official announcement of Eyadema's death on Saturday night.
This move forced an Air France plane carrying Natchaba back from Europe, to divert to Cotonou in neighbouring Benin. There the now-sacked president of the national assembly, remained stuck while Gnassingbe took first his parliamentary title and then his right to the presidency.
Despite the reopening of roads into neighbouring Ghana, Benin and Burkina Faso on Monday, there were other indications that tensions in Togo were running high.
News of police arriving on a Lome university campus to break up a student demonstration sparked panic about a generalised clampdown by the security forces. An IRIN correspondent saw mothers hurrying to collect their children from school in a suburb near the university, and market vendors hastily shutting up shop.
"Togo - A Dead Country"
Togo's exiled opposition leader, Gilchrist Olympio, urged the population to take to the streets in a peaceful revolution to oust Gnassingbe.
"It won't be accepted inside the country and it won't be accepted outside the country. So this state of affairs won't last long," Olympio told Reuters from Paris.
Olympio's father was Sylvanus Olympio, Togo's first president, who was killed by Eyadema in a military uprising in 1963. Over the years, Gilchrist Olympio became a symbol of resistance to Eyadema's authoritarian rule, but he was banned from standing against him in the 2003 presidential elections.
Hours after Olympio's call for street protests, the Togolese government announced a two-month ban on public marches and demonstrations.
But opposition parties in Togo were undeterred. They urged the country's five million population to stage a two-day stay-at-home general strike in protest at Gnassingbe's seizure of power.
"We launch an urgent appeal for the whole population... to observe... two days of "Togo - A Dead Country" by staying at home on Tuesday and Wednesday... to show their rejection of the military coup d'etat," the opposition said in a press release.
Western diplomats contacted by IRIN said a key element to ensuring stability and democracy in the West African nation would be establishing a meaningful dialogue between the government and opposition parties. This, they said, might pave the way for new elections.
But if that failed, they warned international isolation and economic penalties would probably follow.
Eyadema died during negotiations with the European Union on the resumption of EU aid to Togo, which had been suspended since 1993 because of concerns over poor governance, lack of democracy and human rights abuse in the small West African country.
"Before all this happened, Togo was one good legislative election away from the normalisation of relations with donor countries," one Western diplomat in Lome told IRIN.
"The political terrain in Togo has changed completely in two days," the diplomat said. "I think it will take time for us to see how things will unfold."
Some residents on the streets of Lome were more gloomy.
"At this rate we are going to end up like Cote d'Ivoire," said one man, who would only give his name as Nicol. "I fear the worst for my country."