Conversation – Olympics Style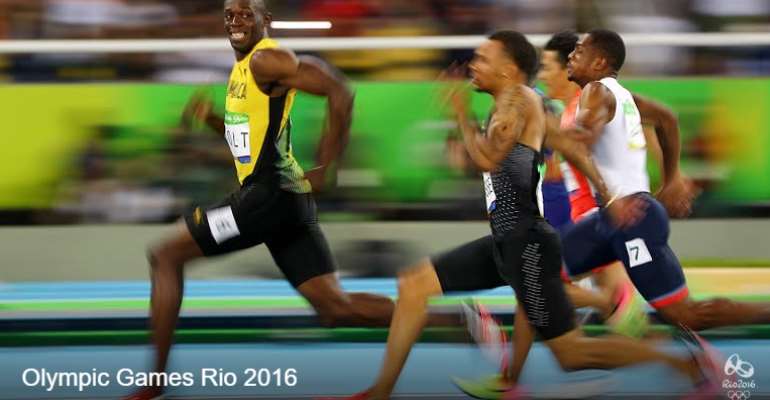 Normal conversation was well-nigh impossible in my neck of the woods during the Olympic Games.
"Oh! He nearly broke his leg whilst trying to hit the opponent's head! Why is it that you can only score maximum points in that way in a Tae Kwando contest?"
"If you ask me, Take Kwando manages to come across as a very dull sport during international contests. It's like a "sideways dance on one leg!"
"Judo and wrestling look more more action-packed. And yet Tae Kwandopractitioners adore the spot! Kierp! and other shouts that explode from the throat during practice have stuck in my ears and will stay there for ever!"
"Do you know that your brother and fellow Tae Kwando initiate has now moved into badminton?"
" Yeah! The guy was once selected to take part in an international Tae Kwando contest in Korea, but as is usual with Ghana sports administrators, they bungled it and the trip never came on. I don't blame him for switching his allegiance to badminton! By the way, that's a very deceptive sport! It appears to be easy – until you try it."
"So is squash! Squash is not an Olympic sport, is it? I wonder why not!"
"Your brother says that badminton is won mainly by being able to anticipate your opponent's moves accurately. It looks physical but it's largely won by out-thinkingyour opponent!"
"Yiee – human beings have time oh! How do you become an expert at 'synchronised swimming?' I mean, you must always train with other people! Suppose they don't show up for training?"
"But that's a problem shared by participants in every team sport, isn't it?"
"I suppose so!"
"Tell me – who at all invented 'rhythmic gymnastics'?"
"Hahahahah! I don't know! It looks like the product of a sadistic mind. So many dangerous contortions of the body?"
"The debate about how large the Olympic Games should be must go on, you know? Is it not a cheat that they fail to separate the events that only countries with the resources to finance the purchase of equipment, and which can afford the services of specialist coaches – at great expense – from the events that every Kookooase Krakye can afford to participate in?"
"Hahahahaha! Kookooase Krakye? Would you call Usain Bolt a Koookooas Krakye just because like most of us, his first equipment were his bare feet?"
"Hahahahaha! That's what I call a sportsman. Pure talent, undeterred by financial or technological disadvantage!"
"But seriously – shouldn't the Olympics change? Swimming and diving and cycling and archery and rhythmic gymnastics and eventing and dressage-- I mean, the cost of feeding and transporting one horse alone could probably finance a whole team of runners!"
"Well, you have to accept that the Olympics were evolved by the rich nations for the rich nations. Participants from Kookooase countries were added as some sort of afterthought."
"Yes, it's like the football World Cup! Do you know that formerly Africa shared one spot with Asia and something called 'Oceania' in the World Cup lineup? I remember the late Ohene Djan railing endlessly against the "cheating" of Africa by FIFA"
"You're kidding?!"
"Ha, you will be shocked! Hear this:
'Egypt, the only African country to apply to compete at the 1954 World Cup was placed in a two-team group with Italy,(!) but lost ... in Cairo and ... Milan, and thus did not proceed to the World Cup. Egypt, Ethiopia, and Sudan applied to enter the qualification process for the 1958 World Cup. But Ethiopia's entry was refused by FIFA! Egypt and Sudan competed in an Africa/Asia zone with ten Asian countries forone spot at the World Cup.... (Eventually the spot originally reserved for Africa and Asia was taken by Wales!)
"Hahahahaha! Taken by Wales?"
"Yes! When it comes to the World Cup, the British Isles compete as individual countries – England, Northern Island, Scotland and Wales. But at the Olympics, they compete as one country – 'Great Britain!'"
"Hahahahaha. No wonder they came second only to the USA on the medals table!"
"Oh don't take anything away from them. They really did well!"
"Yes, yes – I admit. But can't you see the old British hand in the way Africa was treated in the allocation of spots at the World Cup competition? In 1962 – during the days when the British sports administrator, Sir Stanley Rous (FIFA President 1961-74), ran the World Cup – seven African countries, including Ghana, entered the qualification process. Ethiopia was made to enter through the UEFA– repeat UEFA – qualification process where it was eliminated by Israel! The rest of Africa entered through the CAF qualification process but they were then required to play a European side (Spain) to qualify! Such machinations meant that no African nation made it to the World Cup finals for the fifth time in a row! In fact, in the 1966 World Cup, FIFA allocated only one spot to three continents (Africa, Asia, Oceania), with the result that the fifteen eligible African nations withdrew! Yet, ironically, it was an African– Eusebio, playing for imperialist Portugal – who became the superstar of the 1966 World Cup!"
"We must warmly congratulate Nigeria, then, on winning the bronze medal at the 2016 Olympics football competition in Rio?"
"Yes, and while you're about it, don't ignore the absurdity of racism in international sports but do remind yourself that Nigeria did actually win the Olympic FOOTBALL GOLD MEDAL IN 1996, and that this was followed at the very next Olympics by another Afican country – Cameroon – in Sydney, Australia, in the year 2000!"
"Oh, 'Struggling Black Race'! We have to prove ourselves in every sphere of life!"
"But I think the struggle is practically over! Two Black American women, each called Simone, [Simone Manuel, a 20-year-old black female swimmer, and Simone Biles, a 19-year-old Black female gymnast] dominated in two sports in which most US competitors are white. CNN acknowledged that they had "made history -- and here's how: [they] won gold in disciplines formerly thought to be beyond Blacks – swimming and gymnastics!"
"I hope you haven't forgotten that you promised to tell us something about Wayde van Niekerk, the 24-year-old South African who set a new world record in the 400 metres?
"No – how can one forget that? That record he broke by running the 400m in 43.03 seconds, set by the great American runner, Michael Johnson, had stood for 17 years. Wayde van Niekerk was born in Cape Town in July 1992 and was educated at the University of the Free State in Bloemfontein. Originally a 200m runner, his trainer, a 74-year-old white woman from Namibia called Anna Botha, had the prescience to switch him from the 200m – even though he was so good in the 200m that he won that event in the South African national championships at the age of 18.
After his astonishing run, Van Niekerk spoke warmly of Botha. "She's an amazing woman," he said. "She has played a huge role in who I am today and kept me very disciplined and very focused on the role and who I need to be."
For his part, Michael Johnson, who was stunned at seeing his record of 43.18 seconds reduced to 43.03 sec, exclaimed:
"Oh my God! From lane 8! World record. He took it out so quick, and I've never seen – from 200 to 400 – anything like that. What we will want to see is what his splits were. He could very well have run negative splits, meaning that he ran faster in that second 200 than he ran in the first 200, which would make this even more amazing. Well done to the youngster."
Nothing more to be said, is there?