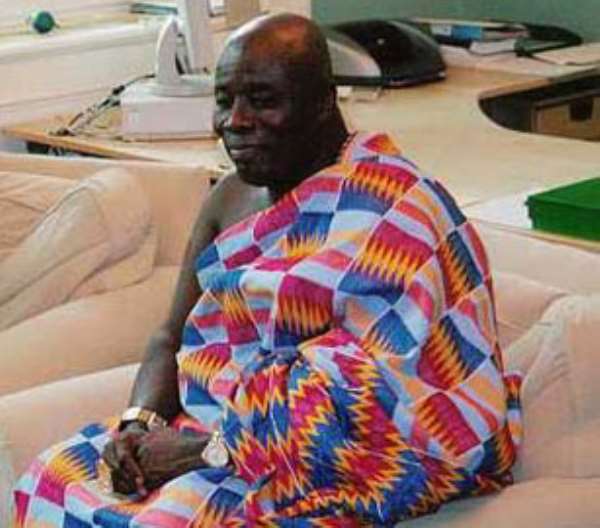 Accra, Feb. 4, GNA - Okyenhene Osagyefo Amoatia Ofori Panyin, Paramount Chief Akyem Abuakwa Traditional Area, on Friday asked for forgiveness for all those who perpetuated heinous crimes against Joseph Boakye Danquah, Doyen of Ghana Politics, which led to his imprisonment and death.
He said: "If we don't forgive we cannot set our hearts free and celebrate one another."
Osagyefo Amoatia made the call when he launched the programme of activities to celebrate the life and works of J.B. Danquah one of the "Big Six" at a memorial and thanksgiving service to commemorate the 40th anniversary of his death.
He said J.B. Danquah lived for the truth, criticized openly, eschewed violence and insisted that leaders should set example in integrity and probity.
He noted that it was a good thing to celebrate the life and work of Dr J.B. Danquah and announced that his final funeral rites would be performed in August this year after which Dr J.B. Danquah would be celebrated every year.
"Instead of mourning his death, we will celebrate his life and works." Osagyefo Amoatia said.
The Most Reverend Dr Asante Antwi, Immediate Past Presiding Bishop of the Methodist Church, said Dr J.B. Danquah was an asset not only to the people of Akyem but the nation and the world.
He said the memorial Service was to remember a great light that went off 40 years ago and that J.B Danquah's life had had an impact on our nation today and that he stood for the truth and freedom, "which we now have in the country."
Rev Asante Antwi described the death of Dr J.B. Danquah as a painful past, which had yielded a present pleasure.
In his sermon, The Very Reverend Anthony Beeko, Former Moderator of the Presbyterian Church, said it was very necessary for a nation to remember her heroes and their lives emulated.
He noted that it was rather unfortunate that those who lived truthful and transparent lives were opposed to by society and one such person was J.B. Danquah.
"Such dreamers are killed but their dreams still live on" he said Rev Beeko advocated for the publication of biographies of distinguished and accomplished citizens to constantly remind the people of their lives and works.
He urged the church to include in their budget some amount of money to help in the publication of the works of people, who have the virtue of mental discipline to put their thoughts on paper for others to benefit.
Mr R.R. Amponsah, one of the living friends of J.B. Danquah also paid tribute to him describing him as one who championed individual rights and firmly anchored in his passion for the rule of law, adding: "He looked to Parliament to uphold the rule of law, the law of Ghana and not the rule of man."
Dr J.B. Danquah was born on December 21, 1895 to Emmanuel Yaw Boakye, a famous Basel Evangelist and one time celebrated state drummer of Okyenhene Amoako Atta and Madam Lydia Okom Korantenmaa of the royal family of Adadeentam.
In November 1921, Dr J.B. Danquah left for England to study law where he was awarded a Degree in philosophy in 1925.
In London, he was the President of the Gold Coast Students' Association in 1926 and a one-time editor of the West African Students' Union's magazine.
Dr J.B. Danquah was a great patriot, who supported the colonial regime when necessary but also criticised its policies that were not in the interest of the country.
He was committed to universal human values and promoted human happiness, dignity and self-fulfilment.
Dr J.B. Danquah championed individual rights and he unceasingly urged government to treat each citizen as a human being and a Ghanaian. His sharp criticism of the government of Osagyefo Dr Kwame Nkrumah, First President of Ghana led to his imprisonment on January 8, 1964. He died in a condemned cell at Nsawam Medium Security Prison at 0630 hours on February 4 1965.
President J.A. Kufuor; Vice President Alhaji Aliu Mahama; Ministers of State; Members of Parliament; the Diplomatic Corp and sympathisers of the Danquah-Busia Tradition were present at the service.