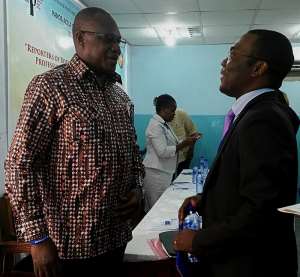 Address by Mr. Daniel Sam, National Project Officer: Policy, Migration and Development, International Organization for Migration, Ghana, at the PANOS – ACILA capacity building workshop on migration issues for investigative journalists, 5th August, 2016, at the Ghana International Press Centre, Accra, Ghana
Madam Chair, Dr. Delali M. Badasu; Honourable Minister, Mr. Prosper D.K. Bani, Minister of the Interior;
Representatives from the Embassy of the Kingdom of the Netherlands and the German
Embassy in Accra; Representatives from the Media; Distinguished Ladies and Gentlemen; It is a great honour to be here at the ACILA-PANOS Capacity Building Workshop on Migration
for Journalists. As you are all aware, the global migration and refugee's crisis has reached a critical peak the world has not seen since World War II. In today's societies, migration is often perceived as a threat to stability, prosperity and identity. It is timely to create a platform to further dialogue with media professionals on the issue of migration. Identifying challenges and best practices in the coverage of migration will help provide opportunities to counter misrepresentation and misinformation of migrants that encourages mistrust and leads to a social malaise between newcomers and host communities.
What is clear is that we need coordinated, unified action across multiple sectors. What role do media makers, journalists, and creatives have to play in addressing the crisis? Reportingon migration: How is the media shaping the migration stories?
The migration-refugee crisis has raised the question of journalist's commitment and responsibility. How to cover most-often touchy subjects? How to interview migrants? How to be objective while showing empathy and respect? How to counter stereotypes? Does themedia today have a greater interest in and a better understanding of migration issues thanever before? How often do we report on the migration and development initiatives- especially diaspora contributions to development?
The answers to these questions are not easy. While there are bad practices which may show aggressive approach towards migrants and refugees, there are also good practices that should be highlighted and shared in order to improve the professional standard in covering migration and refugees.
MIGRATION GOVERNANCE Migration is inevitable, necessary and desirable -- if well-governed. Good migration governance: Integrates migration in major policy fields, development frameworks ensuring coherence, effectiveness and credibility. We require public and political support through evidence-based policy and partnerships.
The International Organization for Migration (IOM)'s view is that a migration system promotes migration and human mobility that benefits migrants and society when it: (a) adheres to international standards and fulfills migrants' rights; (b) formulates policy using evidence and a "whole-of-government" approach; (c) engages with partners to address migration and related issues; as it seeks to (d) advance the socioeconomic well-being of migrants and society; (e) effectively address the mobility dimensions of crises; (f) ensure that migration takes place in a safe, orderly and dignified manner.
IOM and migration issues are now more visible in the media than ever before. Some IOM programmes such as counter-trafficking - helping women and children who have fallen prey to organized crime networks - naturally attract more media attention than capacity building or labour migration. The general public is increasingly viewing migration as something that directly impacts on their own lives and they look to the media for information.
MIGRATION POLICIES IOM provides advice and support to governments and partners, with the overall aim to develop effective national, regional and global migration policies and strategies. IOM strives to establish internal and external coherence with regard to its approach to migration governance as a whole – including, but not limited to, protection and humanitarian policy – as it relates to migration and development. Recently, IOM supported the Government of Ghana, with the IOM Development Fund (IDF) to develop and launch a National Migration Policy- that will assist the government to manage its internal, intra-regional and international migration challenges. This policy was launched on 5 April 2016 at the Accra International Conference Centre by the Hon. Prosper D. Bani, Minister for the Interior.
PUBLIC INFORMATION CAMPAIGNS Public information campaigns are crucial components in efforts to manage migration. In Ghana, since 2007, IOM has partnered with government institutions like the Ghana Immigration Service, the Information Services Department and organizations experienced in mass-media campaigns to conduct public / mass media campaigns to promote safe migration.
Under the EU-funded Ghana Integrated Migration Management Approach (GIMMA) project- a Migration Information Centre has been built in Sunyani to serve as a Resource Centre for potential migrants seeking information.
HUMAN RIGHTS OF MIGRANTS The international community increasingly recognizes that all migrants, irrespective of migration status, are entitled to have their human rights protected and fulfilled. Migrants' rights have been the focus of the High-level Dialogue on Migration and Development, UN based frameworks, and other processes, including the Global Forum on Migration and Development (GFMD) and Regional Consultative Processes on migration (RCP). Additionally, through its global information campaign, IOM advocates for a more favourable, inclusive and balanced attitude towards migrants. Further, there is the need to examine the rights of migrants and seek information from right sources, especially regarding the type of abuse which migrants are subjected to and redress.
Let me take this opportunity to inform you that, on Sept 19, 2016 the UN General Assembly will host a high-level summit to address large movements of refugees and migrants, with the aim of bringing countries together behind a more humane and coordinated approach.
This is the first time the General Assembly has called for a summit at the Heads of State and Government level on large movements of refugees and migrants and it is a historic opportunity to come up with a blueprint for a better international response. It is a watershed moment to strengthen governance of international migration and a unique opportunity for creating a more responsible and predictable system for responding to large movements of refugees and migrants.
MIGRATION IN AGENDA 2030 Migration is incorporated in the SDGs – the 2030 Agenda for Sustainable Development. Direct reference to migration is made in target 10.7, to facilitate orderly, safe, regular and responsible migration and mobility of people, including through the implementation of planned and well-managed migration policies, which appears under Goal 10 to reduce inequality within and among countries. This particular target establishes important impetus for governments to adopt the "highroad" migration policies to promote dignified, orderly and safe migration for the benefit of all. Other migration-related targets call for eradicating forced labour and human trafficking, promoting safe and secure working environments for all workers, including for migrant workers, reducing the costs of migrant remittances and significantly reducing the number of people affected by disasters.
MIGRATION AND GENDER IOM's commitment to gender dates back to 1995. In recent years, the Organization has joined the UN System-Wide Action Plan (SWAP) for Gender Equality and the Empowerment of Women, a system-wide accountability framework designed to accelerate progress towards gender equality and the empowerment of women. IOM is also reinforcing its policies and practices in all its Field operations to prevent and address gender-based violence and sexual exploitation and abuse (PSEA) against women, girls, men and boys.
MIGRATION LAW IOM has special expertise in the area of international migration law which contributes to advocacy for and compliance with international and regional standards. So you could draw support from that angle for more effectiveness, notably though training and capacity-building activities, legislation review and research on migration law. This takes place yearly in San Remo in Italy.
Since part of the key objectives of this workshop is to equip journalists (you) with the knowledge and skills needed to provide accurate and reliable information on migration issues to engender informed civil society discourse and the rights of migrants, it is our hope that this will materialize to promote balanced representation in reporting and also more journalists developing the interest in covering migration-related issues.
As the media is increasingly looking to IOM as the source of that information and expertise, as far as migration is concerned, the Organization is raising the visibility of its programmes and networking with the local media, as far as possible to strengthen our reputation for knowledge, transparency, and professionalism.
We wish to acknowledge the good work of the organizers and wish you fruitful workshop, looking forward to viable outcomes for follow-ups on the migration discourse.