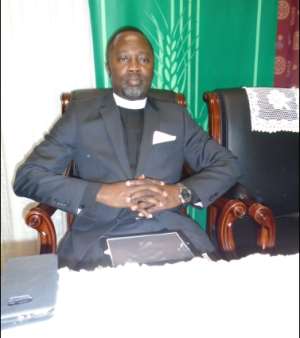 The minister in charge of Ghanaian Presbyterian Church in Toronto-Canada, Very Reverend Raymond Baah Abekah, has advised Christians not to take power into their own hands rather they should acknowledge God as the real giver of life and leaning on him as their Lord and savior, he will always grant the request of his servants.
Very Reverend Raymond Baah Abekah gave the advice when delivering a sermon to members of the Ghana Methodist Church of Toronto on July 31, 2016.
The sermon for the Sunday service was delivered by Reverend Baah Abeka who stood in for Very Reverend Joseph Owusu Atuahene who doubles as the superintendent minister in charge of Methodist Church Ghana mission in Canada who was on duty tour of some societies in other provinces.
The Presbyterian minister asked Christians to set their hearts on things in heaven more than setting their hearts on perishable things on earth.
Delivering the sermon on the theme, "set your heart on things above" Reverend Abekah explained "that does not mean staying out of work and wishing good things for yourself".
He said, it meant working hard to acquire wealth through righteous means and contributing immensely towards Gods work to receive abundant blessing in return.
"Work hard, acquire wealth and give towards Gods work, be merciful to the needy in society and God will richly bless you" he admonished the congregation which received the message into their hearts with a round of applause.