GHACEM Foundation Aids 4,263 Communities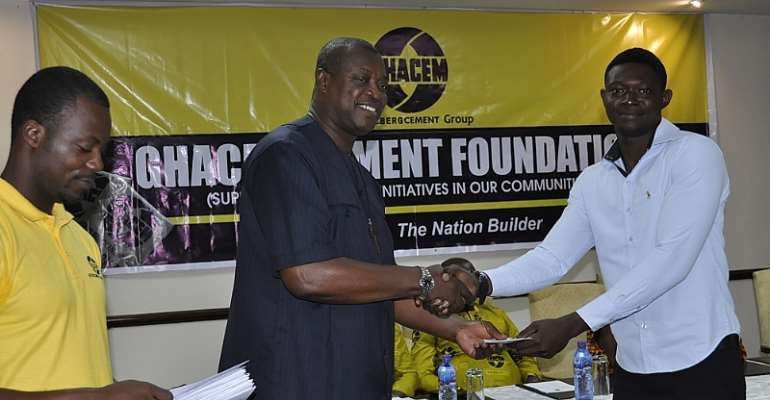 Dr George Dawson-Ahmoah (middle) presents cement allocation chit to representative of a beneficiary institution
About 4,263 communities have benefitted from the GHACEM Cement Foundation (GCF) since its inception in 2002, Nana Prah Agyensaim VI, Chairman of the Foundation has said.
Nana Agyensaim, who was speaking at the GCF Northern Sector Awards last week in Kumasi, said for 14 years now, the Foundation has provided free cement to health and educational institutions to support their infrastructure development.
"From 2002 to date, a total of 420,000 bags of cement at a cost of GH¢13.4 million has been donated free of charge to qualified schools and hospitals in Ghana.
One hundred and sixty eight schools and hospitals in the Northern Sector of the country, which includes Upper East, Upper West, Northern, Ashanti and Brong Ahafo, were present at the event to receive a total of 16,750 bags of cement at a cost of about GH¢536,000.
The Southern Sector, which includes Greater Accra, Volta, Central, Western and Eastern Region, also received a total of 12,930 bags valued at GH¢450,000 at a similar event held a fortnight ago in Koforidua.
Nana Agyensaim appealed to Ghanaians to avoid any conflict and illegalities in the upcoming elections, explaining that a peaceful election would boost investor confidence.
Dr George Dawson-Ahmoah, Strategy and Corporate Affairs Director of GHACEM, in a speech, said GHACEM would continue to sustain the gesture since it was bent on supporting health and educational institutions in deprived areas of the country.
Nana Philip Archer, Commercial Director of GHACEM, who commented on the company's new product – GHACEM Super Strong (42.5r), said it was tailored to meet the demands of developers in the Precast business, especially block makers and concrete manufacturers, among others.
"For those who do not know, you cannot use one type of cement to construct all manner of projects. As such using the right type of cement will avert calamities in our built environment.
This informed the company's decision to introduce the GHACEM Super Strong which guarantees extra strength, has maturity and sets faster."
The commercial director cautioned the public to avoid buying inferior cement products.
He said some of the cement on the market had exceeded the 90-day expiry date.