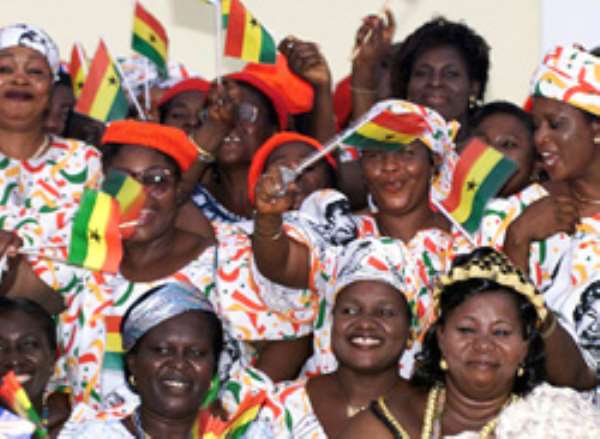 Accra, Jan. 25, GNA - Hajia Alima Mahama, Minister-Designate for Women and Children's Affairs, on Tuesday said there was the need for all political parties to work towards increasing the number of women who enter Parliament. She said since Ghanaians had chosen Parliamentary democracy, parties should make it a rule to field women right from the grassroots to the top as part of the polling agent executive, constituency executive through to the primaries to the very top. Hajia Mahama said these when she appeared before the Appointments Committee of Parliament to be vetted. In answer to her role in ensuring that women were made part of the development process in the country, the Minister-designate said there was the need to look at a whole range of issues including those on education, training and women's participation in decision-making. According to her, since human resource development was one of the key areas being tackled by the NPP, a lot of effort would go into empowering women to enable them make meaningful contributions. When asked by Mr Felix Twumasi-Appiah, NDC-Sene, about issues on marital rape, Hajia Mahama said it was her view that Ghanaians did not want marital rape and therefore it must be expunged from the statutory books.
In answer to Mr John Mahama, NDC-Bole, on effort to be made to increase girls' enrolment in the north, the Minister-designate said it would be appropriate to establish more all-girls secondary schools up north to tackle the situation.
On economic empowerment, she said it would be right to engage more women in small and medium scale enterprises and encourage such women to form companies, which could be assisted by organisations to get to the top.
On improving the lives of children, she said the Ministry of Women and Children Affairs had developed excellent documents on children, which may have to be reviewed to offer more protection for children. In answer to questions on abuse of women's rights, she said some sort of education would have to be carried out on issues such as trokosi along side consultations with stakeholders to deal with the issues. Referring to the Gambaga witches camp in her constituency, she said: "It was regrettable that we have a witches camp."
According to her, though, the camp offered a respite and some sort of protection for women who were being pursued for punishment and revenge. She therefore said, in the interim, she would continue to offer support to these women to make their lives more bearable.