Radio Gold's Suhuyini Plays Tribal Card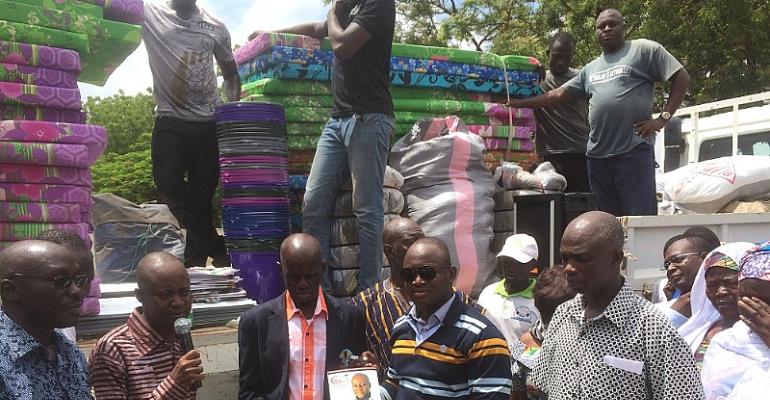 The Tamale North parliamentary candidate of the National Democratic Congress (NDC) Alhassan Suhuyini has asked the people of the North to vote for John Mahama because he is a northerner.
The Radio Gold presenter stated categorically that northerners should prove that they love Mahama by voting for him come December 7 and that God has given the region a second chance.
"Maybe it's time to prove whether we love each other or not for he has demonstrated that he loves us by giving us the Tamale International Airport, Teaching Hospital, Sawla-Fofulso road, schools so let us also show that we love him."
He indicated that the NPP used northerners to get rid of their own brother, suspended chairman of the NPP, Paul Afoko.
"It was our own brothers, the Anthony Karbos, the C.K Tedams; they signed petitions to take Afoko out and I said to myself is it true that northerners we don't like each other?"
When a Voltarian (Rawlings) wanted to be president, they voted for him, when an Asante man (Kufour) came out they voted for him as well as the late president Mills, who was massively voted for by the people of the Western Region, Alhassan Suhuyini indicated.
He stated that when John Atta Mills became president in 2012, the NDC in the Northern Region lost three seats but when John Mahama was running for presidency, the NDC in the region lost 11 seats.
"For the first time in the history of this country in the Fourth Republic, we had a president who won without support from his home region and I remembered what they used to say that we, northerners, don't like each other."
He urged students who are not of voting age to let their parents understand that the general elections is not about him (Suhuyini) or John Mahama but "it is about one day if their child wants to become president and they say he schooled in the Northern Region they would say "oh northerner when we put him there his own people won't support him."
He was addressing students at the Northern School of Business where he donated 50 mattresses, 50 buckets, 50 blankets, 50 mosquito nets, 100 exercise books, 20 packets of roofing sheets and 10 packets of roofing nails to assist students who were affected when fire gutted the boys' dormitory of the school in the Northern Region.
Headmaster of the Northern School of Business, Inusah Nuhu thanked Alhassan Suhuyini for the items he donated to the school, indicating that his donation came at the right time.
He, however, appealed to him to provide the school with a bus to replace the damaged one.
From Eric Kombat, Tamale