I'm Sorry For Talking Politics With Students - Suhuyini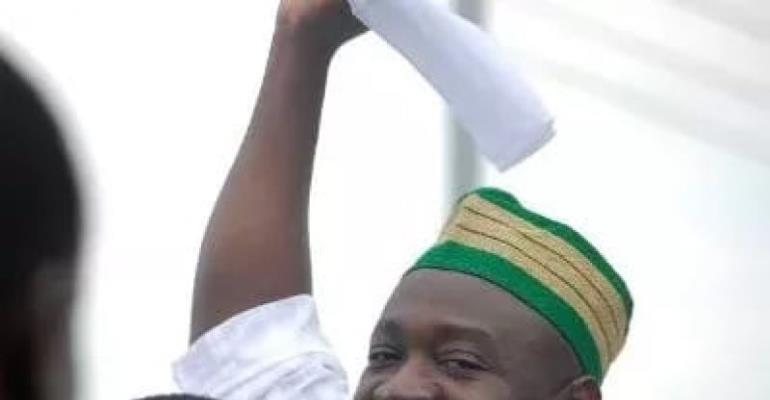 The National Democratic Congress parliamentary candidate for Tamale North, Alhassan Suhuyini, has apologised for doing politics on the campus of the Northern School of Business which is against the rules of the Ghana Education Service (GES).
The Radio Gold broadcaster told the students, and Northerners in general, to go all out and vote for President John Dramani Mahama because he comes from the north since Ashantis did same when President John Agyekum Kufuor was seeking power.
"When a Voltarian stood to be President the whole of Volta Region voted for him until he stopped being President. Jerry John Rawlings and when Ashanti man stood to be President the whole of Ashanti Region rallied behind him until he stopped to become President, President Kufour," Suhuyini told a gathering of students from the Northern School of Business (NOBISCO) after presenting relief items to victims of an inferno at a boys' dormitory.
"When Professor Atta Mills decided to run for President the whole of central region, his home region, voted massively for him before he could win in 2008, and do you know the sad news? When John Mahama from the northern region decided to be President in 2012, the NDC in northern region lost 11 constituencies," the award-winning journalist said.
He has come under public backlash for allegedly playing the tribal cards going into the 2016 elections. Suhuyini has, however, rendered an apology to the GES, the school and the National Disaster Management Organisation.
Below is the full unedited statement:
I apologise to the Northern School of business, the Ghana education service and to the District chief executive and the officers of the national disaster management organisation. The Northern School of business and GES because parts of my address to the students during the presentation of disaster items ventured into politics which is against the GES codes. Officials of the national disaster management because the media reports have under highlighted the prompt response of the organisation when I approached it to seek support for the disaster affected students. I only assisted in transporting the goods and in supporting the district chief executive and District NADMO officials to do the presentation to the school.
I, however, find some of the headlines by the media, especially citifm disingenuous. How they chose a headline that suggests that I said "Northern Region should vote for Mahama like Volta Region did for Rawlings" befuddling when, indeed, they would have still been correct if the headline was that "Northern region should vote for Mahama like Ashanti Region did for President Kufuor". Because I suggested so in the same sentence.
Why they chose the former and not the latter may seem nuanced, but not to a clever mischievous political reporter.
Meanwhile it is true that Volta Region Voted for Jerry Rawlings and Ashanti Region stood by John Kufuor. Central Region stood by John Mills before he could win and Eastern Region has always been won by Nana Addo but comparing the 2008 results of the NDC when John Mills was candidate to the 2012 election results when John Mahama was candidate it is again correct to say the NDC lost in the President's home region.
I am hardly a conformist. I believe in speaking out my mind on issues I believe are right especially when the majority for fear of loud unprincipled condemnation victimisation, or isolation are unable to say it loud.
What did I say that the Minorities in the USA did not say to our cheers and applause when they rooted for President Barack Obama in 2008 and 12? What did I say that the Minorities in SA did not say to our cheers and applause when they stood with Nelson Mandela? What did I say that the people of Kentucky did not say about Mohammed Ali? What did I say that Hillary Clinton did not say to New Yorkers or Donald Trump did not say to his home town folks in the just ended primaries in the USA? If what I said is not civil I'm sorry I read from the pages of all these people named above. Dr Mahamud Bawumia recently asked Muslims to vote for his party because he is a Muslim and I disagreed with him ONLY to the extent that he suggested that will lead to the resolution of challenges confronting Muslims and muslim communities in the country.
I did not in my call suggest that a vote for President Mahama is a guarantee that people of Northern extraction will have all their problems resolved. When we support our national clubs like kotoko, RTU or Hearts of Oak to win games it is not because we hope bonuses the playing body will receive will make it possible for us to pay our wards school fees or pay our utility bills. Yes politics is different but not insulated from sentimentalism else NDC would have had less opposition in Ashanti Region and NPP would have had appreciable support in Volta Region based on their efforts at developing these regions when they have political power.
Finally, when we root for our old schools and show our love, it is not as if we hate colleagues from other schools. My love for my Alma matter Ghanasco doesn't necessarily suggest I hate Tamasco. Your love for Accra Aca or Prempeh College is not an indication of your hatred for Presec or Mfatsipim.
So to be proud of my heritage as a Northerner should not be misconstrued to mean hatred for people from other parts of the country. After all we are all proud patriotic Ghanaians with beautiful cultural, social and religious identities that in harmony have been preserved and transmitted over the years. I'm called Suhuyini, you are called Kwesi, Osei, Kodjo, Konlan because of your traditional heritage and there's nothing wrong with that. It is wrong when you disrespect and denigrate others' identities and suggest that on that basis alone they are not worthy of certain privileges in life not when you celebrate yours.