24 July 2016
|
Europe
UK To Assist With French Border Checks After 14-Hour Queues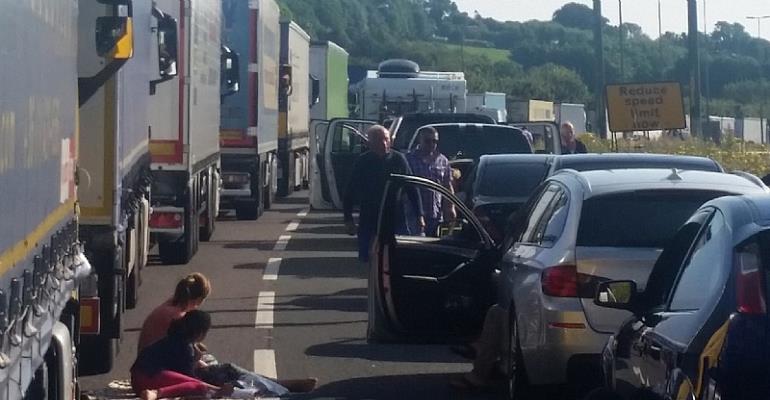 UK officials are to assist with French border checks at the Port of Dover, after the government said motorists had suffered "extraordinary disruption".
Motorists were caught up in delays of up to 14 hours through Kent, due to high numbers of holidaymakers and understaffed French border posts amid heightened security checks.
Delays began on Friday night and could last until Monday, police have warned.
Kent Police said it would "proactively" manage traffic to ease congestion.
On Sunday morning, the Port of Dover said passengers travelling on the A20 were still experiencing 4.5-hour road delays and up to 35 minutes on the A2, followed by two-hour delays inside the port. 'Seriously understaffed'
Police said disruption had been caused by the "vast volume of holiday traffic" coupled with delays caused by heightened security at the border – brought in following recent terrorist attacks in France.
However, the Port of Dover authority said the French border control booths in Dover were also "seriously understaffed" on Friday night, with long traffic jams forming on the A2, A20 and M20.
The government announced that UK Border Force staff would assist French border police with checks at Dover in a bid to clear the backlog.
"We understand that there has been extraordinary disruption in the Dover area today but safety is paramount," a spokeswoman said.
"Measures are also being taken on the approach to the port where Kent Police will be proactively managing traffic to speed up the process."
The spokeswoman added that the government recognised the "security pressures" that French law enforcement organisations were under at Dover.
One of those caught up in the queues was Simon Barnes, from Sevenoaks, who had been due to board a Dover-Calais ferry at 04:20 BST (03:20 GMT) on Saturday.
He is attempting to travel to the Italian Lakes with his 18-year-old daughter and two of her friends.
However, just before midnight on Saturday they had only just made it to the town of Dover and were still waiting to enter the ferry terminal.
"It has been awful. But I think people in general have just been accepting it. There have been an awful lot of people walking off to get provisions.
"My daughter and her friends walked into town and managed to find a sandwich and a coffee while I was sitting in the queue." Playing outside
Rob Jackson, who is travelling from Yorkshire to Italy, was stuck with his partner and two children , aged 11 and 14. They had been planning to catch a ferry at 14:00 BST on Saturday.
However, last night they were still eight miles away from the port.
"The kids are OK, they have been playing outside in the traffic. There is not much they can do and there is not much we can do."
He added: "We are OK at the minute, but for people with small children and older people, I am sure they have suffered much more than we are."
Another motorist told BBC Radio 5 live he had been on the road for nearly 24 hours with his wife and three children.
He said: "We left Birmingham at nine o'clock yesterday [Saturday] morning. My little one has just thrown up, he's been feeling car sick for the last couple of hours and he's just thrown up. But apart from that the other two are OK.
"The good thing is we've got a seven-seater, and we took a couple of the seats out and put a foam mattress in, so that they could lie down and have a kip."
On Saturday, parts of the London-bound carriageway of the A20 were closed to help with the distribution of water by police motorbikes.
Security checks at the Port of Dover were relaxed around lunchtime on Saturday to help speed up the process but police advised travellers to pack plenty of food and water and consider making alternative travel arrangements.
France has been under a state of emergency since last November, when terror attacks in Paris left 130 people dead, and has tightened its border checks accordingly.
The port said it had raised concerns over French staffing levels with the UK government earlier this week, which were then brought up with its French counterparts.
-bbc