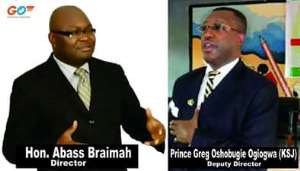 • Brian Adeba calls for third-force intervention and targeted sanctions
• Machar's spokesperson says Machar will only accept intervention from United Nations Mission in South Sudan
• Kiir's spokesperson says third party force "will not be acceptable"
• Host Femi Oke frustrated by "depressing conversation" about "grievances and counter-grievances"
Last night on The Stream on Al Jazeera English, award-winning South Sudanese singer and peace activist Emmanuel Jal called on both president Salva Kiir and first vice president Riek Machar to step down.
"The country has failed. The leadership has failed. I'm not even safe to go to Juba," said Jal. "Both leaders should step aside, put a new government in place."
Jal criticised the recent arrest of Alfred Taban, the editor-in-chief of the Juba Monitor newspaper, after he published a column calling for Kiir and Machar to step down.
Jal also reminded viewers that he was a refugee in Canada because he had been beaten unconscious by police in 2012 in South Sudan, where he had wanted to settle and host a peace concert.
"Because I saw so many people suffering and I wanted to open my mouth, I was almost killed," he said. "Not everybody is supporting the rebel movement but if they continue to create this abuse with time there is going to be a revolution. You can't use force on people; give people freedom, let them have the freedom of speech."
Both Jal and Brian Adeba, associate director of policy at Enough Project, called for an intervention from a third force.
"We need a third force in South Sudan," said Adeba. "Without a third force, the country will disintegrate. However, that third force should come in through a mutual agreement from all the parties involved in this conflict and not be an end in itself."
Adeba also called for "targeted sanctions," saying, "South Sudan is at a very critical juncture at the moment. It is sitting on a cliff. One small nudge and it will tumble over the cliff and when that happens you will have Rwanda in 1994 and Somalia in 1999 combined. You will have ethnic pogroms taking place across the country and a total disintegration of the state. So the international community has to step in."
Asked if the current leadership would accept a third force, James Gatdet Dak, Machar's spokesperson, said the first vice president would only accept an intervention from the United Nations Mission in South Sudan. "Any other force we will not accept it."
Ateny Wek Ateny, Kiir's spokesperson, said an outside force was unnecessary. "The two leaders can work perfectly well. President Salva Kiir said it on Monday - first vice president Machar is still his first vice president and they are determined to implement the peace agreement."
Ateny pointed out that there are already 12 000 UN troops in South Sudan "who have not done anything" so questioned why increasing the number of foreign troops would help the situation. "A third party force will not be acceptable because it will just aggravate the situation in South Sudan."
Ateny also blamed the current crisis on international interference in the last peace agreement. "Last time the international community failed to accept the advice we gave them. We said two armies will not be workable... If the first vice president is also to accept that he is part of the government, he shouldn't have his own forces. Now it was seen on Friday how devastating is having two armies."
Host Femi Oke asked both Dak and Ateny hard questions about why South Sudan was fighting, but grew frustrated with their answers. "Ateny, you have a list of grievances, James has a list of grievances, and you just keep arguing about your grievances…. It's a very depressing conversation. I wish I could see some way forward and some hope but all I hear are grievances and counter-grievances."
Watch and embed the heated debate at:

and follow the social media debate at #ajstream.
For more information, visit http://stream.aljazeera.com/story/201607181438-0025248.