14 July 2016
|
Health
Guilin Pharma and African Collaborating Centre for Pharmacovigilance sign deal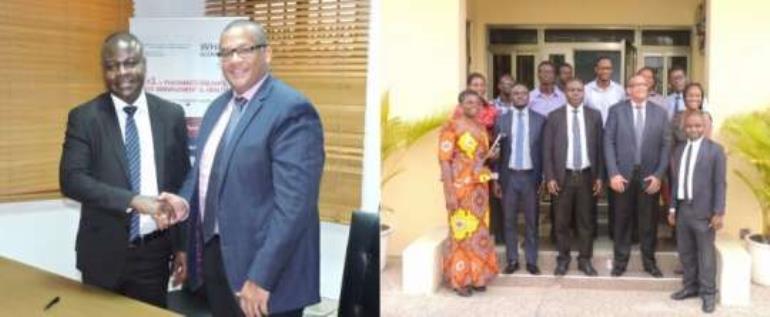 Accra, July 14, GNA - Guilin Pharma Africa, a subsidiary of the Fosun Pharma group, has signed an agreement with the African Collaborating Centre (ACC) for Pharmacovigilance for worldwide pharmacovigilance of three of its products.
The products are injectable artesunate and the combination of dihydroartemisinin+piperaquine (DHAP) and Amodiaquine+Sulphadoxine-Pyrimetamine (AQSP)
Guilin Pharma Africa belongs to the parent Guilin Pharma Shanghai Corporation of China, a leading pharmaceutical manufacturer.
Guilin Pharma is the lead producer of artesunate in the world and currently the only company with a WHO Pre-Qualified Injectable Artesunate.
The agreement is the first of its kind in Africa between a global pharmaceutical company and an African institution specialising in Pharmacovigilance.
The ACC convenes the AU/NEPAD Regional Centre of Regulatory Excellence in Pharmacovigilance and works closely with the WHO Collaborating Centre for Advocacy and Training in Pharmacovigilance, University of Ghana.
Speaking at the signing ceremony, Dr Jean-Marc Bouchez, General Manager Guilin Pharma Africa and Medical Director Guilin Pharma Shanghai Corporation, lauded the partnership and expressed the hope that African institutions would take the lead in the safety monitoring of products used for endemic diseases in Africa like malaria.
Professor Alex Dodoo, Director of the African Collaborating Centre for Pharmacovigilance welcomed the partnership and called on African scientists and health professionals to collaborate actively in the area of post-market safety surveillance of medicines, vaccines and other medical products used in Africa.
He posited that a healthy and safe Africa is the responsibility of all Africans and all who collaborate with or work in Africa and encouraged governments and the private sector to explore innovative approaches to leverage resources for sustainable safety monitoring systems on the continent.
GNA
Contracts awarded to the sister-in-law has raised questions of conflict of interest.
Advertized