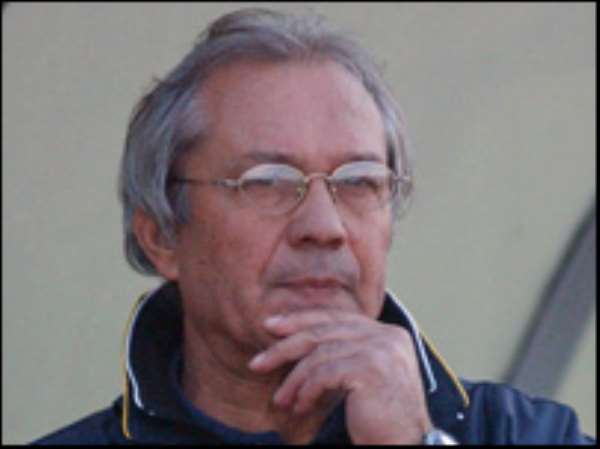 Accra, Jan 17, GNA - Ratomir Dujkovic, head coach of the senior national team, the Black Stars will on Tuesday morning begin the second phase of his training programme with another batch of locally based players.
He told the GNA Sports in an interview that plans are far advanced to zoom into the second phase of camping that would be exclusive to players from the 12 other Premier League clubs.
Coach Dujkovic on Monday morning brought to a close a one-week training programme with players drawn from the camp of the four top clubs in the country made up of Accra Hearts of Oak, Kumasi Asante Kotoko, King Faisal and Kpando Heart of Lions.
"I have asked the coaches of the 12 other Premier clubs to give me two of their best players for camping from Tuesday to Friday in my quest to have a fair view of all the finest players in the country". The players are expected to assemble on Monday afternoon at the Secretariat of the Ghana Football Association (GFA).
The Serbian who plans to train twice daily whilst in camp, said he would however not expect miracles from the players since he believes that " all the players, apart from those with the Top Four clubs have been on holidays and I expect them to be a bit rusty".
"I expect most of them to have problems with the physicals but hopefully it would be a good exercise at the end of it all and I will expect each of the invited players to exhibit high level of comportment, discipline, dedication and commitment", he told the GNA Sports.
Coach Dujkovic however, expressed satisfaction with the phase one of the camping which was exclusively meant for players from the camps of the Top Four clubs.
"I am very satisfied with the level of corporation received from all the players and I hope that we can together build a winsome team if their performance and attitudes are anything to go by".
Coach Dujkovic who has so far watched three competitive matches since his appointment in December, aims at converging the final team a week to the Stars date in Kinshasha, though he said he relished a longer camping period.
"Longer camping is always the ideal but since our foreign players as well as most of the players from the top clubs would be participating on the continental scene, I hope to make do with the one week period". Though he was tight-lipped about the location, he said the climate would play a vital role in the selection of the ideal place.
The Stars, according to information pieced together by the GNA Sports might engage France and Congo Brazaville in international friendly matches between March 21 - 26, before the qualifier with Congo on March 28th.