6 July 2016
|
Tributes & Condolences
Akwasi Owusu Eulogizes Ben Koufie
Bismark Oppong, Suncity Radio, Sunyani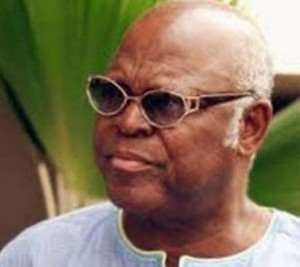 Former skipper of the Black Stars of Ghana, Akwasi Owusu, affectionately called "power house," has paid a glowing tribute to former president or chairman, as the position was previously called, of the Ghana Football Association, the late Ben Koufie, who passed away on Monday 4th July, 2016 at the Korle Bu Teaching Hospital in Accra.
Speaking exclusively to Sunyani based Suncity radio on their authoritative morning program, Suncity morning Show, Akwasi Owusu expressed his unpacifiable sadness at the news that "Uncle Ben," as he was affectionately called had passed away. "Power house," paid a glowing tribute to the late footballer, coach and administrator who he described as a "fantastic coach" for his contributions to the achievements of him, Akwasi Owusu as a footballing stalwart and to the state as a whole.
"Ben Koufie coached me a lot of times", Akwasi stated. "He coached me in Sudan in 1970, he also coached me when we went to a tour in Brazil in 1969, and in an all African games competition too", he added. "I'm really saddened to learn of his demise because he was an absolute professional and a fantastic coach whose tactical guidance played a crucial role in shaping me to become one of the most feared strikers during my playing days," he continued.
Ben Koufie, who served as the president of the Ghana Football Association between 2001-2003 trained as a coach in the former Czechoslovakia at the Nymburk Sports College in 1961.
He continued with his training in the same year in West Germany at the Cologne Sport Hoch Schule as a football coach and obtained a First Class Diploma - DHFK, East Germany in 1964 with certificate for Gold Medal as Best Student (UKUNDE).
He obtained the English Football Association Football Coaching Certificate in June 1970 at County Durham and attended a Senior Coaches Clinic at Lilleshal, England in the same year.
After the Clinic, he was attached to Chelsea Football Club in July 1970 under Dave Sexton in London and attended other short courses conducted by FIFA periodically in Ghana.
Mr Koufie was appointed Regional Coach of the Eastern Region in 1961 and then for the Western Region in 1963.
In 1964 he was appointed the deputy national coach and won the Africa Cup with the Black Stars in Tunis in 1965 with Mr C.K. Gyamfi.
Between 1964 and 1966 he coached Kumasi Asante Kotoko Football Club and was appointed the Team Manager of the Black Stars in 1967.
Mr Koufie was appointed National Coach/Manager of the Black Stars from 1968-1973 and took the team to the finals of the Africa Cup of Nations in Addis Ababa Ethiopia in 1968 and in Sudan in 1970.
At the club level, Mr Koufie with the support of Mr Aggrey Fynn won the Africa Club Championship with Kotoko in Zaire in 1970 and went ahead to coach Accra Great Olympics to the semi-finals of the Africa Club Championships in 1972.
He also coached Africa Sports of Abidjan, Akosombo Textiles football team (Akotex) before becoming the Chairman of the Technical Committee of the GFA from 1979-1980 and Technical Advisor to the Zimbabwe Football Association from 1981-82 and introduced Botswana to international and continental competitions in 1992.
In January 2000, Mr Koufie was awarded Silver Medal by CAF for the development of football in Africa and elected Chairman of the GFA from 2001 to 2004.
He also served on the CAF Technical committee and chaired Ghana's Technical Committee for years.
He received national honours (Grand Medal) for distinguished service to Ghana in July 2006 by President J.A. Kufuor and selected for Ghana's Hall of Fame for excellent performances as a player, coach, instructor and administrator.
As president (Chairman) of the GFA, Mr Ben Koufie is best remembered for instituting the 5-year development plan which is seen as massive turning point in the development of young soccer talents in the country.