Youths Urged To Strongly Advocate For SDGs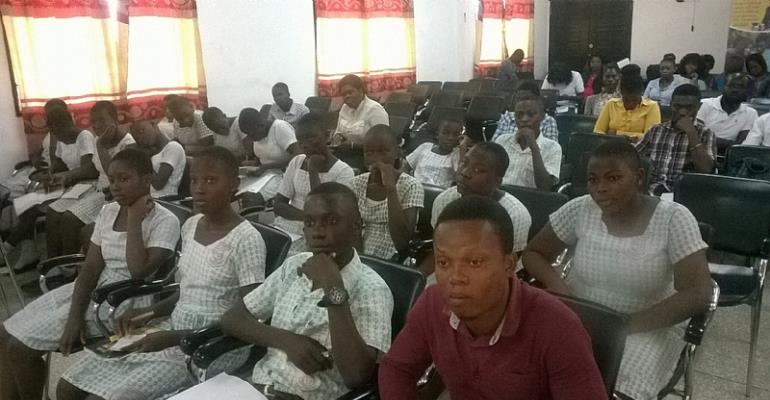 The Deputy Chief Executive Officer of the National Youth Authority, Ernest Amoako has charged the youth to take advantage of the capacity building opportunities being offered by local NGOs in the country towards the execution of accountability advocates project on Sustainable Development Goals (SDGs).
This, according to him will help boost Ghana's chances of reaching its set targets of the SDGs come 2030.
"This is the time for 'you', young people to take action and ensure that in 2030 all that is enshrined in development of youth through the SDGs related projects are fulfilled to the latter" he emphasized.
Ernest Amoako made the call whiles addressing a youth forum held at the University of Ghana, Kofi Drah's Conference room in Accra on Wednesday, June 30, 2016.
The forum, according to the Executive Director of Youth Advocate Ghana(YAG), Emmanuel Ametepey was organized by his outfit in support of other key partners working under the "accountability advocate project" aimed at disseminating the data generated out of the 'Big Idea Project' (research) during past few months and also engage people including stakeholders , development partners, government agencies and the youth with experiences gained during the collation of the data under the project.
Mr. Ernest Amoako bemoaned the lack of apathy being demonstrated by the youth these days when it comes to taking part in the capacity building workshops especially focused on the SDGs Accountability Advocates Project which is being spearheaded by the Restless Development, the Youth-led Development Agency, and its key partners Plan Ghana, Youth Empowerment Synergy (YES), Plan Ghana, the African Monitor and Curious Minds.
The Exec. Dir. Of YAG, Emmanuel Ametepey believes for Ghana to achieve its set targets of reaching the SDGs goals in 2030, "Data will really be the basis for us to measure the impact of the SDGs in the next 15 years" therefore lauded the initiative of monitoring and collation of data describing it as a 'step in the right direction'.
In his presentation, John Amuzu, an officer of Youth Advocate Ghana, maintains the "Accountability Advocates Project" is an initiative born out of the 'Big Idea Project', which is a youth-led accountability program designed to empower young people with knowledge, skills and connect them to meaningful opportunities so as to curate official data and generate their own to become leaders in exercising accountability for the Post-2015 framework.
The rationale behind the implementation of the Big Idea Project, he explained, stemmed out from the need to create space for young people to actively engage partners and leaders in the post-2015 process. "Driven by changes in how we're using data and backed by global calls for twin revolutions in transparency and data, young people are ready to hold decision-makers to account in new and exciting ways. " In addition to influencing the content of SDGS, young people can and should be involved in monitoring and accountability of the framework" John added.
Programmes Officer of Youth Advocate Ghana, Ms. Diana Koranteng, in her address, commended the advocates for executing a good research work. According to her, the results were 'true reflection of issues relating to the reasons why Traditional Birth Attendants (TBA's) feels reluctant in patronizing health facilities'. Ms. Diana advised the youth to endeavor to access the various Adolescent Health Corner Units available at their disposal in Hospitals and Schools across the country to gain more knowledge and information in order to live a good life and be good citizens of mother Ghana.
The Accountability Advocates Project, a brainchild of the BIG IDEA PROJECT is a new program being championed by Restless Development, a youth-led development agency with a mission to place young people at the forefront of change and development. It has been designed in partnership with Plan UK, African Monitor and YES Ghana and Co-funded by the Erasmus + Programme of the European Union.
The Project which was launched in 2015 targeted twenty(20) 'Accountability Advocates' selected from various countries in Africa and Europe including Ghana, Tanzania, Zambia, Uganda, Kenya, South-Africa, Malawi, Nigeria, United Kingdom, Finland, Romania and Bulgaria.
The beneficiaries known as 'accountability advocates' will be trained and mentored by national experts for over 10 month's period. The training which has already began in late July 2015 focuses on how to design and implement national monitoring framework that together with a national alliance of young people, peer organizations and other youth partners can be used to hold government accountable to implementing the new SDGs.
Three accountability advocates in addition to one person (mentor) selected for the project in Ghana had already undergone series of training under the first phase of the project on how to monitor and hold government accountable in adolescent reproductive health issues including maternal mortality as components of SDGs 3 and 5 which Ghana is expected to focus attention on as required under the project.
An accountability advocate of Restless Development, an International NGO, Richard Dzikunu,who presented the data collected on maternal mortality and adolescent reproductive health issues as part of a group research work required under the project revealed several local women have trust in the Traditional Birth Attendants (TBA's) to help deliver their babies for them instead of visiting hospitals even though most of these TBA's operate under little or no supervision.
According to him, some of these general challenges raised by women as causes of maternal mortality include; ignorance on part of pregnant mothers, proximity of health facilities, lack of transport facilities and bad road networks, lack of support from husbands, unsafe abortion and attitude of some health workers.
The data was generated out of a focus group discussion with 40 participants in Kumasi and Sunyani of both Ashanti and Brong Ahafo Region of Ghana in the form of experiences from participants.