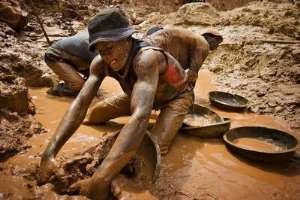 File photo
A "blade" of gold which perhaps can be compared to half a teaspoon weighs 0.8 grams and values as much as 105 Ghana cedis. The worth of gold is invaluable and is undoubtedly a key source of foreign exchange and revenue for Ghana.
Part of Ghana's gold production stems from artisanal and small-scale gold mining (ASGM). As a matter of fact, the ASGM sub-sector is a major contributor to the country's economy. It accounts for 15-20% of annual global gold production and provides employment and income for an estimated 10-15 million miners globally.
It is surprising however to note that, one very important sector that contributes tremendously to the growth of Ghana's economy faces a lot of challenges when it comes to matters of illegality and poor working conditions in artisanal and small scale mining. These glaring problems go a long way to affect the growth of the sector and the economy at large.
The issue of illegal mining in Ghana has been of great worry over the years and though some stringent measures have been put in place by the Minerals Commission to address the problem, it still lingers on with no feasible solution in sight.
Do we look at roping in the illegal miners into the mainstream? Talking about legalizing illegal mining, what is popularly known as "galamsey" like the Chief Executive of the Minerals Commission Dr. Toni Aubynn has suggested in an article published on the 16th of June 2016, on myjoyonline? Well, it looks like the closest option seeing that the "galamsey operators' hunt" by the police and military have not yielded much result.
The issue needs to be addressed urgently because illegal mining has a lot of repercussions that diversely affect the people involved, the environment as well as others living in and around mining communities.
Let's delve into solving the problem of poor working conditions of the artisanal and small scale miner which is a major focus of the ILO in its project targeted at convening Stakeholders to develop and implement strategies to reduce child labor and improve working conditions in Artisanal and small-scale gold mining.
The poor working conditions of artisanal and small-scale gold miners poses very dangerous threats to their health, the environment and people living close to these mining sites.
A recent visit by a team of partners including the International Labor Organization (ILO), Labour Department of Ministry of Employment and Labour Relations (MELR), Minerals Commission, the Ghana National Association of Small-scale Miners (GNASSM) and Social Mobilization Partners against Child Labor (SOMOPAC) to mining sites in the Central and Ashanti regions reveals poor and hazardous working conditions of artisanal and small scale gold miners.
These miners operate without any safety gears. They use their bare hands and expose their skin to the harmful chemicals involved in the process.
Mercury, is an extremely toxic chemical which has devastating effects on its users, causing damage to the brains, kidneys and lungs. One's eye sight can be lost through the use of mercury. By exposing yourself to mercury, you are in effect exposing yourself to terrible health risks, in extreme cases, cancer. This, is the risk every small scale gold miner faces in their everyday work.
Manual digging, continuously struggling with basic tools like sticks, shovels and other crude equipment to get some gold from the core of the ground. This could take them days, weeks or months with the kind of equipment they use. The use of these tools would require applying much more workforce and manpower than would be required with improved machinery. Thus, in effect less gold is produced production of gold and less contribution is made towards economic growth.
Dredging, another form of mining is one of great concern as it results in adverse effects on water bodies. "Manually created machines" are used directly on the water, exuding dangerous chemicals into it and rendering the water dangerous for domestic use.
It all boils down to the safety of a regular small scale miner who goes through all the hustle and pain to earn something for himself and his family and it's perhaps his only means of survival.
Another critical problem in ASGM operations is the engagement of children. In many ASGM sites children are found doing auxiliary activities such as selling or taking care of their little siblings while their parents work. In not a few cases, children are actually involved in hazardous work in mining.
They crawl into tiny caves and holes, digging for the precious minerals at the peril of their lives. Don't we hear of collapsing galamsey pits that kill both adults and children? They are involved in crashing ore into power, breathing the toxic dust and fumes. They wash, rinse, filter and treat the ore with mercury. These processes are all very inimical to their health. And most of them do this at the expense of acquiring quality education and training.
The issue of child labour in gold mining is a clear case of how we are abusing the fundamental and constitutional rights of our children to be protected from hazardous work. It is a demonstration of how we are breeding unemployment for our future youth and poverty for our communities. Now we have an opportunity to not only to safeguard or children from worst forms of child labour, but also to improve the small scale gold mining sector that is so critical to our country's economic growth. Let's just do it!