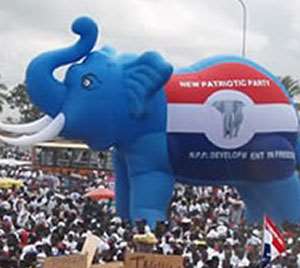 I have stated time and again that the wind of change blowing in Ghana could be felt in the diaspora among members of the Ghanaian Communities. There is that unshaken desire to see the change in political leadership in Ghana, and the commitment to realize this desire is evident.
Espousing that commitment a few days ago was the NPP Houston-Texas Chapter Chairman, Sky Gyamfi Nkrumah Adwabour, who through the adoption program of the external branches of the NPP led the Houston-Texas Chapter to adopt the Mfantseman Constituency in the Central Region.
As part of familiarizing himself further with the constituency to have a fair idea of where his chapter can further contribute to the tremendous effort of the constituency, Chairman Gyamfi took time off his busy schedule and spent days going through every town, village and hamlet within the constituency with the executives and the parliamentary candidate for the constituency, Ekow Hayford.
Having supported the constituency since its adoption, Chairman Gyamfi in a conversation with Ghananewsmedia.com said that he was delighted to have taken that very trip. He said it was an opportunity to see in first-hand the challenges facing the constituency, the opportunities for improvement and where the Houston Chapter can step in and further support the constituency to make the winning its parliamentary seat a reality. Gyamfi added that this experience will motivate and energize the chapter to do more for the constituency. He called on other chapters and external branches to take the time to familiarize themselves with their respective adopted constituency and do more to complement their efforts.
On the chances of the NPP, Chairman Sky Gyamfi as he is affectionately called stated that he is more confident that Nana Akufo-Addo and the NPP will win the 2016 elections. He said the incompetence, corruption, and mismanagement of the John Mahama/NDC administration has unleashed untoward hardship unto Ghanaians who are now yearning for more competent and capable minds to redeem them from the economic woes. "Winning election 2016 is non-negotiable!" Chairman Gyamfi stressed.
Chairman Gyamfi, who is the youngest chairman of the NPP-USA fraternity lauded his executives and members of the NPP Houston-Texas Chapter for their unwavering and continuous support towards election 2016.
"My chapter and I are well fired up to campaign for Nana Akufo-Addo and NPP for victory 2016, and we will not weasel out this national call to duty" Chairman Gyamfi stated.