June 23, 2016
|
Health
Global Alliance for Clean cookstoves, USAID holds training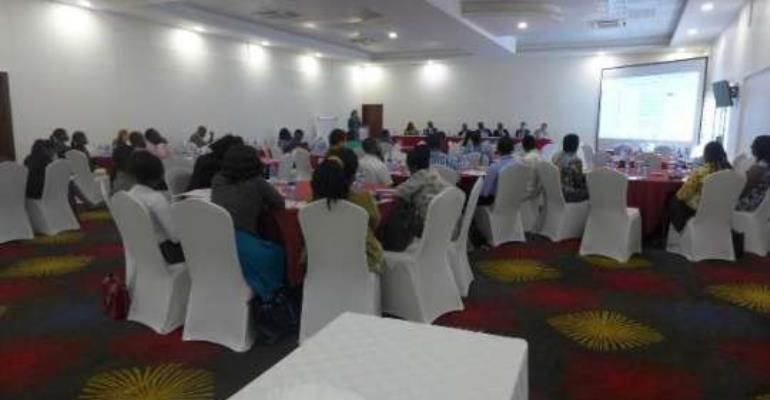 Accra, June 23, GNA - The Global Alliance for Clean Cookstoves (GACC), in collaboration with the United States Agency for International Development, has organised a health training in household air pollution as part of a continuing professional development in Accra.
The training was organised to evaluate the public health relevance and burden of disease from household air pollution (global and Ghana, household and ambient), to establish the emerging research-based evidence on addressing the issue from a public health perspective.
It was also aimed at providing updated information on availability of demonstrably 'clean' solutions in Ghana.
It was also to estimate the public health benefits of scaling up clean cooking in Ghana utilising the Household Air Pollution Intervention tool and to educate providers on how to address household air pollution with patients through awareness raising and promotion of exclusive use of clean cooking technologies.
Mr Kwesi Sarpong of GACC said 84 per cent of Ghanaians rely on solid fuels thus wood and charcoal for cooking, which makes more than 21 million of the population impacted.
He disclosed that more than 13,000 deaths out of which 6,000 occur in children are caused by household air pollution.
He said the Alliance is working with the Ghana Education Service to make clean cooking part of the curricula so that children would be educated on the effects of using unclean methods of cooking and the importance of using a cleaner way.
Dr Sumi Mehta of GACC told participants that reducing exposures to achieve health benefits is complex, however one should always consider his or her proximity to fuel sources as well as emissions from all stoves and fuels.
She said household pollution has made child pneumonia a major health challenge despite major steps being taken to curb the situation.
Dr Mehta explained that to have a timely opportunity to address the issue in Ghana, there must be a national commitment by government and clean cooking enterprises to accelerate cleaner and more efficient cooking.
She said a local evidence base to influence policy and increase awareness within public health community of problems and solutions is also a way to curb the problem of household pollution and its effects.
Dr Gloria Quansah Asare, Deputy Director General of the Ghana Health Service, said the health implications of inhaling household pollution such as carbon monoxide could cause short term effects including irritation of the eye, skin and throat.
She mentioned infertility; low birth weights and abnormalities; chronic cough and repeated chest pains; worsened asthma; bladder, cervix and lung cancers; cataract; and age related disorders such as hypertension, weakened bones and memory lost as some of the long term effects of inhaling household air pollution.
Dr Quansah Asare noted that lung cancers are usually attributed to tobacco smokers, however, general observation in developing countries have proven that lung cancers are more common among non-smokers.
'We can reduce indoor air pollution by eliminating or controlling the sources of pollution; by considering ventilation and building designs and filtering the air with materials including ionizers', she said.
The event was attended by Practicing Physicians and Physician Assistants in Ghana, Ghana Kintampo Health Research Centre researchers, Ghana Ministry of Health representatives, representatives from USAID Translation Research into Action Project (TRAction), and the GACC.
The training was sponsored by TRAction, GACC, Ghana Health Service and Kintampo Health Research Centre.
GNA