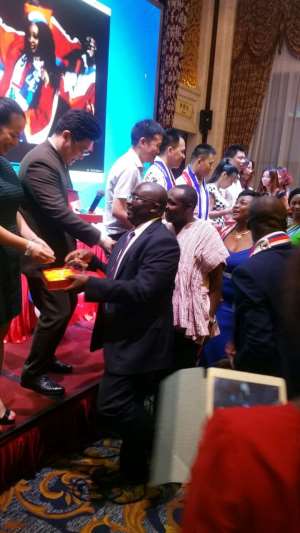 They clapped and cheered on, ecstatically, as Dr Mahmoud Bawumia, gracefully, handed out Ghana-made souvenirs and plaques to Chinese entrepreneurs and moguls on a recent visit to China. He was accompanied by the acting General Secretary and the National Women's Organiser of the New Patriotic Party.
The visit to China was at the instance of the NPP Chapter - China. The members were eager to offer their assistance in any manner possible, as well as to provide financial and moral support towards the campaign.
In a speech delivered by Dr Mahmoudu Bawumia, he touched on the cordial bi-lateral relations between Ghana and China, adding that a Nana-Akufo-Addo administration would build yet stronger ties and firmer partnerships. Amidst deafening applause and cheers, he continued to deliberate on the kwashiorkor economy premised by the incompetence of President John Dramani Mahama and his disoriented cum clueless government.
He reiterated the resolve of Nana Akufo-Addo to transform the Ghanaian economy with emphasis on industry and agriculture. He noted that utility tariffs, import duties and levies will be revised downwards, while some unnecessary taxes will be abolished completely; OBLITERATED!
On their part, the Ghanaian residents in China thanked Dr Bawumia for honouring their invite and pledged their unfettered support for the #AriseForChange tsunami that is sweeping the nation, shaking the foundations of the NDC like the shimmying of a dancer's buttocks.
The Chinese friends were quick to note that they would be more comfortable dealing with a Nana Akufo-Addo government because the reputation of the flagbearer as incorruptible, affable, accessible and wise has gone far and wide.
Attached is a photo of Dr Bawumia distributing miniature plaques and souvenirs followed by John Boadu (acting General Secretary - NPP) and Madam Otiko Adzaba (National Women's Organiser - NPP). Notice Dr Bawumia holding a souvenir to give to the lady before him as John Boadu assists someone else adorn his.
#NDCPropagandaWillNotWash #JohnMahamaIsCorrupt #NDCIsGoingDown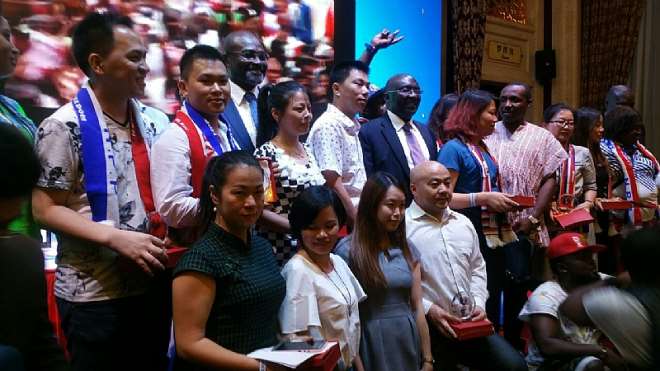 Bawumia In China 2