Kumasi Metro Celebrates World Day Against Child Labour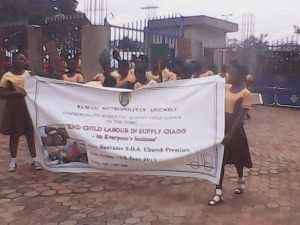 From Ernest Best Anane, Kumasi
Mr. Alexander Attah-Asante, Kumasi Metropolitan Director of Education has expressed worry over the alarming number of Ghanaian children in child labour.  According to him, about 1.9 million children in Ghana between the ages of five and 17 are involved in child labour quoting the Ghana Statistical Service.
Among the number, he said, 1.2 million children in the same age group are engaged in hazardous forms of child labour and indicated that, the number of children who do not go to school but participate in economic activities is higher than those in school.
Mr. Attah-Asante revealed this when he delivered a speech as part of Kumasi Metropolitan Assembly commemoration of World Day against Child Labour, under the theme: "End Child Labour in supply Chains, its Everyone's business". He explained that, Child labour is done by any working child who is under the age specified by law or custom stressing that Child labour is a hazard to a child's mental, physical, Social, Educational, emotional, and spiritual development.
Mr. Attah-Asante stated that, it is obligatory for all countries to set a minimum age for employment according to the rules of ILO written in Convention 238 (C. 138), which he said Ghana has obliged. The Education director said stipulated age for employment is not below 15 and that even as a developing country we are allowed to set the minimum age at 14 years in accordance with our socio-economic circumstances.
He disclosed that, it is our business to end child labour, and should not be a funfair that every year we gather to give speeches only to go back and perpetuate the ills against children.
Mr. Kojo Bonsu, the Metropolitan Chief Executive, stated that Child labour is wrong and that, every possible action must be taken to put an end to it. He called for renewal of our commitment towards putting an end to all forms of child labour.
According to him, we all need to play our collective roles and work hard to ensure that, children have access to basic resources including nutrition, health and education, so that they may fully realize their potentials in the World.
Pix: Students marching on the principal streets of Kumasi in
commemoration of the Day