Mad Rush For Admissions At NKOSEC …As Nkonya-Alavanyo Conflict Isover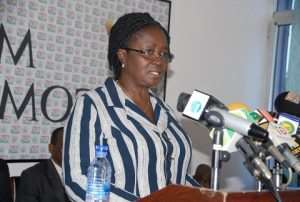 From Samuel Agbewode, Nkonya-Ahenkro

Headmistress of the Nkonya Senior High School (NKOSEC), Mrs. Margaret Irene Sarkuhashas stated that many parents have started seeking admission for their wards ahead of time, because it has become clear to them that peace has returned to the area.
She explained that the Nkonya-Alavanyo conflict that ravaged the area affected school enrollment over the years, as parents refused to send their wards there, but now that the conflict was over, they have started enrolling their wards.
Mrs. Sarku pointed out that the conflict is now over, and the existing peace was good for educational, social as well as economic activities, and given the fact that the school provides holistic education;parents must endeavour to look for admission for their wards to benefit from quality education.
Speaking during the school's Parent Teacher Association (PTA) meeting as part of preparations of towards the 50th anniversary of the institution, she said the school aims at promoting quality education in terms of infrastructure and human resources therefore parents ought to take advantage of the situation and bring their children to the school.
She disclosed that currently government had started building a modern auditorium and administration block complex for the school to further increase the infrastructure base of the school noting, the there was  no difficulty in accommodating teachers as there exist enough bungalows that would address the accommodation needs of teachers.
Also, she pointed out there are adequate accommodation for students as a boarding institution, making it possible for the school to maintain discipline.
She said the school boasts of quality teachers which were evidenced in its continuous qualification to participate in the national Science and Mathematics competitions.
She therefore urged parents to cooperate with the school authorities in their efforts to provide quality education that would prepare their children adequately to become responsible adults in future,adding their teachers over the years demonstrated utmost commitment to deliver their best but such commitment would be meaningless if parents failed to play their roles more effectively.
Mr. Sarku observed that it was becoming clear that parents whose wards were day students paid no or little attention to what they do after normal school hours noting that it would be more profitable for parents to ensure that their wards become boarders.
"Now that government has absolved the fees of day students parents should be able to complement government's efforts by providing educational materials relevant to their study because no parent should think that his or her child would perform well when the child has not been supported. Students who performed well are those whose parents commit more resources to their education" She stressed.
The Headmistress also appealed to parents to provide  their children with the National Insurance Scheme card (NHIS) to enable them attend health facilities free whenever they fall sick noting that it has become a problem for school authorities to meet the health needs of students because most of them in the boarding house have not been registered under the NHIS.
"Please, help us because the students are like our children and anytime that any of them falls sick as the headmistress of the school, I use my own money and pay for their hospital bills and we want you to help by providing the NHIS card for them when they are coming to school," she said.
The PTA Chairman of NKOSEC, Mr. Edward Kwame Ansah commended the school authorities for maintaining high discipline in the school, promising their resolve to complement efforts of teachers in achieving quality education.