$165 Million Turkish Exim Bank Water Project Nearing Completion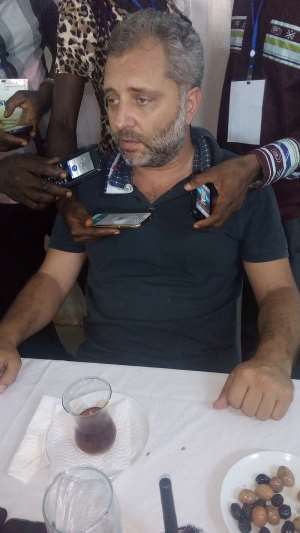 Mr. Ediz Armandor
The $165million Turkish Exim Bank water project ongoing at three different locations in Ghana are nearing completion and the commissioning of the project is expected to be done on the 15th of next month with all things been equal. This is according to the project Manager of the Turkish Company undertaking the project Mr. Ediz Armandor.
Mr. Armandor who was speaking to the media at a press soiree held at the company's Main Camp at Akyem Oda said, though they are expected to commission the project by 15th July, water will start flowing by the first week of August. The water project is been carried out by a Turkish Company Arda Grup and is been founded by the Turkish Exim bank with the Government of Ghana paying $5million dollars as part of the salaries for the Ghanaian workers working on the project. The Arda Grup, the company working on the project has 1000 workers with 200 of them been Turkish and 800 of them been Ghanaians.
The company is working on three main water projects, the Akyem Oda water project, Akwatia Water Project and Winneba Water project with its main camp at Akyem Oda. The project has 3main reservoirs consisting of a 6000 cubic meters reservoir with a 24000 water capacity at Akyem Asene, a 4000 cubic meters reservoir and a 2000 cubic meters reservoir at Winneba with 5 elevated water tanks located at Amantem, Manso, Number 4 and 2 at Winneba.
The project has more than 500,000 meters of pipe lines and is expected to produce 11million gallons of water a day for the Akyem Oda and Akwatia catchment areas. According the project manager, the project which begun on 13th April, 2014 is 90% complete at the Akyem Oda area, 80% complete at the Akwatia project and 85% complete at the winneba project.
The Turkish workers after July 15 will stay in the country for some time to train some Ghanaian workers on the handling of the machines and will then handover everything to the Ghana Water Company. They are therefore expected to say bye to the water project by the end of the year.