Kpessa Whyte is evil, I can't work with him - aspiring NDC MP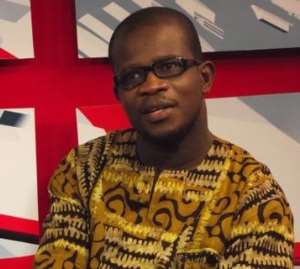 Newly elected National Democratic Congress (NDC) parliamentary candidate for Shai Osudoku says she is uncertain she can work with the main contender, Dr Michael Kpessa Whyte, to retain power in the upcoming elections.
Mrs Linda Akwele Ocloo, a teacher with no political experience, polled 5,156 to beat her main contender Dr. Kpessa Whyte in a keenly contested parliamentary primary held Saturday, June 18.
The position became vacant following the death of the parliamentary candidate William Ocloo. Widow of the late candidate Mrs Ocloo tells Joy News she cannot trust Dr Kpessa Whyte.
A lot of political commentators gave Mrs Ocloo no chance of winning as they argued that she was a novice with no political experience. It was also said that riding on sympathy votes won't take her far.
She told Joy News a week after her deceased husband's burial when she was called upon by some party executives in the constituency to run that, she was already under pressure from some forces within the party to step down.
She said her detractors did not think she can retain the seat. Also, some were more comfortable with Dr Whyte representing the constituency.
"I have to be a bit careful even though we are one people. Being together with him is something I have to think twice about because that man I can assure you is evil, very evil and I can't afford to work with such people," she said.
According to her, she wants to only "work with loyal competent and very faithful people."
She explained to Joy News that Dr Whyte masterminded the "brutal beating" of her "people" which she claims she has photographs to show as evidence. But for the timely intervention of the police, she said it would have been something else.
Although she is asking for the support of his followers to win her the seat come November 7th, she is convinced she can't work with him.
"He hasn't called me to congratulate me and I am not sure he has that courage after all the insults," she told Joy News' Kwetey Nartey, adding that she is still waiting for his call.
However, the Executive Director of the National Service Scheme (NSS) expressed surprise for being described as such by Mrs Ocloo.
"That is news to me because what I do know is that in the Dodowa Post Office which happens to be where most of her supporters were and where the people were highly intimidated and I was hooted at when I got there," he said.
Dr Whyte narrated further that he was almost attacked and so he had to quietly leave the place. For his part, working with her to retain the seat for the party is an internal party issue which will be sorted out.
Contrary to Mrs Ocloo's assertion, he said, "I have sent a message to Mrs. Ocloo congratulating her and asking my supporters to stand in readiness to work in a united party for our party to win both the presidential and parliamentary elections come November."
"I have that message on my Whatsapp. The message was after two phone calls couldn't go through. As far as being prepared to work with her is concerned… yes I will be prepared to work for her and I've asked my supporter to do same."
Story by Ghana | Myjoyonline.com | Abubakar Ibrahim | Email: [email protected]