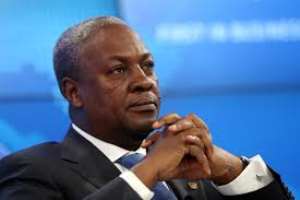 President John Dramani Mahama
While functionaries of the National Democratic Congress government and their media collaborators continue to make spirited and desperate attempts to water down the bribery scandal involving President John Dramani Mahama, they seem to ignore the fact that the very person who advises the president on issues of corruption has nailed him to the wall.
Unknown to him that his boss had been caught in a bribery saga, as exposed by Joy FM's investigative journalist Manasseh Azuri-Awuni, the presidential advisor on corruption, Daniel Bartidam, gave a damning verdict on the personality of any president who would ever accept any gift valued over $100,000.
According to President Mahama's advisor, it will take only an 'irresponsible' leader or president to accept a gift worth more than a $100,000.
The issue of whether or not President Mahama lied to the nation when he struggled in his recent BBC interview to create the impression that he had never taken bribe before was settled Wednesday, through the investigative work of Manasseh Azuri.
The highlight of the investigative piece was a revelation, and official confirmation, that President Mahama took a brand new Ford Expedition vehicle, worth over $100,000, from a Burkinabe contractor who has executed a number of contracts, secured through sole-sourcing and handpicking, with the president's obvious influence.
Djibril Kanazoe, who had been looking for contracts in the country over the years, did not seem to be making any success, but the situation, according his own testimony, turned in his favour after somebody led him to see President Mahama.
He was subsequently handpicked to build the $650,000 Ghana Embassy fence wall in Burkina Faso. Subsequently, the Burkinabe contractor delivered to President Mahama, the 'gift' of a brand new Ford Expedition vehicle in 2012, the same year his company was selected, again through sole-sourcing, to execute more projects.
According to the president's advisor on corruption, accepting the car 'gift' makes him an irresponsible leader because as the number one public officer, anything to do with the conduct of public officer holders begins and ends with him.
He was speaking on a code of conduct for public officials launched by the president in 2013 to regulate the conduct of his ministers.
Daniel Bartidam was asked a hypothetical question what his advice would be if the president sought his view on whether he (president) should take a gift worth a $100,000 from a person doing business with the government.
Mr Bartidam stated that knowing who President John Mahama is, he would not accept a gift of that value, stressing that no responsible public official needs to be advised against taking such a gift.
"I am sure you know that these are not situations that would occur in reality in terms of the kind of president we have. I think it is obvious that any leader, any president, not even a president, a minister, a responsible public servant will know that, that will put him or her in a situation of, not just a conflict of interest but potentially being corrupted.
"It goes without saying that you cannot take gifts from sources that have the potential of influencing your decision making. It is not acceptable and I think a responsible leader, minister, senior public servant will not need to be advised on that," Bartidam said with conviction.
"Gifts can and do qualify as bribes. They are a very high potential ground for corruption," he added.
On Monday, July 8, 2013, President Mahama launched a Code of Ethics for Ministers & Political Appointees. He told the nation: "This Handbook must… be seen as a demonstration of our commitment to stamp out corruption and encourage the highest ethical considerations by all government officials at all levels. It is our expectations that this book will help all Political Appointees to think through the ethical dimensions of their decisions and conduct."
The Code of Ethics stipulates: "No political appointee should accept a gift with estimated value of GHC200 or more. If the estimated value is GHC200 or more, the gift may be retained while in office but must be declared in the interest of the individual."
It goes on to say, "To avoid the creation of appearance of an obligation, gifts in cash or kind are not to be solicited or ACCEPTED FROM A COMMERCIAL ENTERPRISE or any other organization." An exception to this would be the acceptance of a presentation made during a visit to an institution."
President Mahama's own Code of Ethics defines Influence Peddling: "Influence peddling is the ILLEGAL practice of using ones influence in Government, or leverage with persons in authority, to obtain favours or preferential treatment from another, usually in return for payment (either in cash or kind)."
In addition to these, section 21 (b) of the Conduct of Public Officers' Bill 2013 states: "A public officer shall not accept a gift, a favour or an advantage, that has the potential to influence the proper discharge of the public officer's functions or judgment, from a person with whom the public officer comes into contact in relation to the public officer's functions."