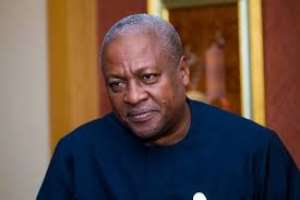 President John Dramani Mahama
All discerning, objective and patriotic Ghanaians, by now, should be very much worried about what awaits the nation if the electorate should make another mistake of voting in the upcoming presidential and parliamentary elections to give a third term mandate to the National Democratic Congress government, led by President John Dramani Mahama.
President Mahama simply sees governance as a means to create opportunities for family relations and friends to make wealth without thinking about the ramifications of such unpatriotic mentality. This was what caused Majority Leader Alban Bagbin to once describe his administration as 'family and friends government'.
It is all about what he and his close allies can get and not what can be done to accelerate the development agenda of the nation to enhance the socio-economic wellbeing of the suffering masses.
That was why he influenced the lifting up of a ban on Armajaro Holdings, a company that had been sanctioned for engaging in smuggling of cocoa from Ghana to Cote d'Ivoire, after its Chief Executive Officer and others had met President Mahama, and received assurance from him to do something about the ban.
With the UK Minister who made a phone call to fix a meeting with then Vice President Mahama said to have received £40,000 for that service, one wonders how much President Mahama received from Anthony Ward for helping to lift the ban on his company.
It was also for the same reason that President Mahama spearheaded the abortive STX Korean Housing deal. The Korean partners said in open court that they had to pay $10,000 as facilitation fees to Ghanaian officials even though the deal could not see the light of day. The money was not paid to the government. It was paid to an individual. The deal was President Mahama's brainchild.
With the latest scandal involving his receipt of over $100,000 worth of Ford Expedition vehicle from his Burkinabe friend and contractor, we at the Daily Statesman are left with no doubt that President Mahama came into office to amass wealth, and not to improve the wellbeing of the people who voted to give him their mandate.
This man who had been struggling, without any headway, to win road contracts in Ghana secured a juicy contract from the NDC government after a friend had advised him to go and 'salute' then Vice President Mahama. What could have changed for the man to begin securing contracts after going to 'salute' President Mahama? It is clear something must have exchanged hands.
And subsequently the man decided to thank the president with a Ford Expedition vehicle after executing that contract and getting paid for the outrageous amount he charged and collected from the poor Ghanaian tax payer.
Following this, the nation's procurement laws and guidelines suffered obvious manipulations to enable the president's friend secure more contracts through sole-sourcing. Yet, Ghanaians are being made to believe that there was no presidential maneuvering, and that he Burkinabe businessman won his contracts on merit.
At this stage, we want to caution Ghanaians that another term for President Mahama and his functionaries will only extent their opportunity to steal more from the national coffers, and thus create more hardships for all of us.
The only way out for the nation now is to boot out this corrupt president from power and replace him with the more patriotic, incorruptible Nana Addo Dankwa Akufo-Addo who has convinced the nation that he is not in politics to amass wealth, but to seek the wellbeing of the masses.
For those who decide to allow themselves to be somewhat influenced to overlook the harm President Mahama and his government are causing the nation, we want to urge them to always listen to your conscience, and also consider the future of their children and grandchildren.