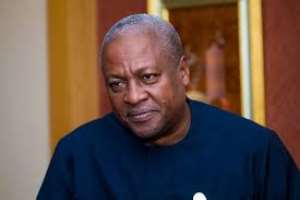 President John Dramani Mahama
Once again, God has vindicated the opposition parties claim that His Excellency the President and the NDC government is practising corruption with impugnity. In the opinion of Alhaji Dr. Mahamud Bawumia, Economist and running mate to Nana Addo Danquah Akuffo, a large chunk of the financial resources that should have been used to deal with the problem of unemployment in Ghana is lost to corruption. Corruption in governance is undoubtedly, the bane of Ghana's development.
Acceptance of a gift from Burkinabe contractor, Mr. Djibril Kanazoe, is in clear violation of the President's own code of ethics and thus constitute an act of corruption.
In fact the contractor himself knew he was offering a bribe even if H. E the president didn't know this. The contractor first denied knowledge of the 'gift' until Manasseh read out a letter he had intercepted.
Two clear years down the line, no body was aware of this 'gift' except perhaps the ministers who are now defending the issue. When late President John Atta Mills rejected Christmas gifts, his reasons were quite obvious; "Some people bring the gifts and their motives are genuine,"
"Others, perhaps, just want to establish a relationship that would, in a sense, influence decisions that you might have to make in the coming year that relate to their interests. "So you cannot really differentiate in terms of the different motives that people bring to this gift-giving exercise."
The gifts would be better enjoyed by the country's underprivileged, such as children at orphanages'. source;
http://news.bbc.co.uk/2/hi/africa/8430267.stm .
When Kufuor received a gift from Libya for Ghana, it was in the open and published in the media. This was not done in secret.
Why did H.E John Mahama choose to hide his from the public only to be exposed by Manasseh's investigative piece? He even thanked the man for the offer through a phone call.
We are made to understand this Kanazoe man has benefited from several government contracts after the 'gift' to president Mahama. How then could any one convince me that it was not meant to win unmerited favours from the president? Perhaps, there are other gifts of the sort that hasn't been uncovered.
Government's defence of the bribery allegation further exposed their heights for corruption since the registration information of the car in question cannot be found with DVLA, according to Manasseh Azure Awuni. This information has either been deleted or the car is not registered and further constitute a violation of law and illegality since the car is under the custody of the president. If the car was indeed for the state, it should have been registered. More so, Kanazoe would have proudly admit that in public when questioned. He had a motive which the president ought to be aware of considering his status as a reknowned contractor.
I therefore call on all civil society organizations, anti corruption bodies and members of Parliament to provoke the necessary constitunal provisions to ensure that the matter is thoroughly dealt with to serve as a guide for posterity.
Manasseh Azure Awuni should equally be commended for his good works in exposing corruption at the high level of governance. He deserves an honour to serve as an incentive for development journalism.
Thank you.
Samuel Abdul-Aziz Nambo
Tel. 0201262187